Teaching & Learning with Zoom
Zoom is a web conferencing application that allows you to meet online through high-quality audio and video. It provides features like meeting recording, screen sharing, whiteboard, chat, and breakout rooms.  The Zoom mobile app is available through iTunes or Google Play, and if you use Chrome as your browser, you can add a Zoom Scheduler extension.

Since all UMS faculty, staff, and students have full access to Zoom Pro accounts (and they are System-supported and integrated with other learning tools, like Kaltura and Brightspace), it is an excellent investment to spend some time exploring what this tool can do.
You can meet with colleagues or students for office hours
You can use Zoom to teach synchronously online
You can use Zoom to record your lectures
You can use the tools within Zoom to create  more active learning experiences
Getting Started
You can log in to your Zoom account through a button in the Launchpad of the MyCampus portal or at maine.zoom.us using your @maine.edu credentials. Also, Zoom is integrated with Brightspace, so you can find a link to Zoom in Brightspace's Tools menu when looking at any course.
In addition, Zoom provides apps for Apple and Android mobile devices, so you and your students can join meetings while you're on the go.
Did you know you could record your lecture in Zoom?!
Let's look at how you can use Zoom as a lecture recorder:
Update your Zoom to the most current version!
Have you noticed that other faculty and staff have cool new tools or features that you do not?  You probably need an update!  Here is how:

Getting to know Zoom Settings and Features
Zoom has a lot of options to take your synchronous student sessions to the next level–let's look at a few:
The screen share option is great for modeling a process or reviewing a resource or site.  Students can also share their screen, to troubleshoot a navigation issue of walk-through/critique a project.
The chat feature opens a chat bar on the side of the screen, where participants can ask questions and post live links to web-based resources.  It is also a great way to engage students who may be having a hard time troubleshooting audio or video issues (though be sure to send them to the helpdesk after the session)
The record feature allows you to record your session for use as a resource to share with students who were not there or to post in Brightspace, as a review tool.  Be sure to record your Zoom sessions 'to the cloud', so that they will automatically be added to your Kaltura account!
Did you know that Zoom supports break-out groups? This is really useful to facilitate group projects, manage small group discussions, and increase social presence in blended or video-conference courses!  As a facilitator, you can drop into any of the small groups, and pull everyone back again to report out–check out the brief tutorial below.
You can even choose a Whiteboard feature from within the Share Screen panel, or you can click Advanced options to choose another camera (like a Doc camera or an iPad)
Pro tip: if you are screen sharing a video, be sure to check the "Share Sound" and "Optimize for video clip" boxes on the bottom of the Share Screen panel (or your meeting participants will not be able to hear what you are sharing)
Facilitating a Zoom Class Session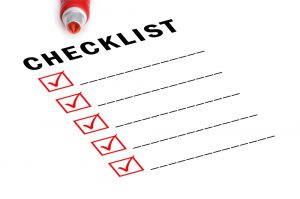 Facilitating a Zoom Class Session – Instructor Checklist
Before the class session:
Create your Zoom link from within Brightspace, for ease of access and continuity. Ask your students to download the Zoom mobile or desktop app in advance of the first meeting. 
Recording:

 Consider if you plan to record the session to make available to students who were not able to attend and/or for review

Identify your tool need:

  If you plan to use Zoom tools within your class meeting, you may want to try them out with colleagues or CTL staff, in advance: 
During Class:
Verify that the students can see and hear you

Click the 

Participants

 button to see who is in attendance

Assign student roles, such as a student to monitor the chat and alert you when a question is asked (as needed)

Set meeting norms (as needed), and open with clear communication about participation expectations

Notify students that the meeting is being recorded, if applicable.

If the session will be recorded, click the 

Record button if you hadn't already enabled recording when you set the meeting up.  Be sure to record to the cloud

Set (and practice) class norms such as:

Ask your students to practice patience – with themselves, with their instructor, and with their classmates. If this is a new way of interacting, let them know that you are all learning together and to expect that it will take some time to adjust.

Ask students to use the "Raise Hand" feature to ask a question

Ask students to keep their microphone muted unless called upon to speak, and to not type while unmuted

On the first class session, make sure to tell students that they are expected to be at scheduled Zoom sessions on time, as late-arriving students can be disruptive. 
Preparing students for your Zoom class
Onboarding students to your own expectations and class norms will be essential, in developing a class culture that will meet you and your student's needs.  Consider how you will support the following types of interactions in your Zoom session:
How will you engage with students?
Will you utilize external tools or resources that you need to screen share?
Will you 'lecture' for a specific amount of time, and then take questions?
Can students expect that there will be any breaks in longer classes?  CTL staff recommend a break comfort break after an hour and a half of teaching.
Will you take 'attendance' during the meeting?
How will you formatively assess understanding throughout the lesson?
How can students expect to engage with you?
Are cameras required to be on, and if yes–when (during specific times/classes?)
When students have a question, how and when should they ask (type in chat? raise a hand?)
Will students be expected to screen share work (or external tools like Docs) with you?  Do you have tutorials and low-stakes practice opportunities planned, to prepare them for success?
How will students engage with each other?
Will you use break out rooms?
Will you use polls to anonymously share touch bases?
Will students use the chat tool to make connections and respond to each other?
Will you use shared Whiteboarding or an external tool like Jamboard?
Help students feel comfortable with Zoom as a tool for learning, by onboarding early and allowing for lots of relaxed practice opportunities (as you are introducing new processes).  Here are some shareable resources, to get you started:
Popular Zoom Meeting Tools to Up Your Zoom Game:
Managing small-groups/break-out groups in Zoom
Zoom allows you to break students up into smaller discussion or work groups, and as the facilitator–you can go between rooms to check in (and pull students back together to report out).  This short video from Zoom provides a great peek into how this works–though you should note that you can get to our Zoom through your myCampus portal, from the Tools menu in any Brightspace course, or by going directly to https://maine.zoom.us/.
Illysa Izenburg wrote a great article for Faculty focus, on Using Breakout Rooms with Less Stress and Better Results, that gives some great, actionable advice to facilitating more effective Zoom Breakout sessions! Did you know that you can even pre-assign Break-out Rooms before class starts?!
Teaching & Collaborating with Zoom Whiteboards
Zoom has a Whiteboarding feature that allows you to create, share and collaboratively work with students in a way that compliments how we traditionally use the whiteboard in a classroom. Check it out:
You can even pre-create your whiteboard before class starts, to have it ready!
Use the Chat Feature to Engage Learners
The Zoom Chat panel can be used to easily share links to course resources and support documentation–but did you know that you can also use it for formative assessments and to take attendance? You can even download and save your Chats to review later! Let's look at how:
Using Polling for More Interactive Meetings
Zoom Polling allows you to assess learners' understanding before, during, or after learning. You cab prepare one or more Poll(s) ahead of time, and review the results later! Let's look at how:
Prepare for Your Online Zoom Courses: