YourPace: a pathway to success for adult learners
UMPI established YourPace as a competency-based (CBE) adult degree completion program, to provide a flexible and affordable pathway for adult learners who already have some college credit but have not yet earned a degree.
Aligned with UMPI's General Education and program-specific curriculum, YourPace allows students to use a Learning Management System (Strut) to complete learning objectives and associated activities which tie directly to the competencies embedded in your Course Learning Outcomes. Students are able to progress through the competency modules as they demonstrate mastery of your academic content.
i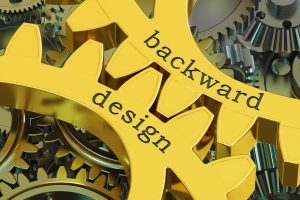 Anchored to the Outcomes, by Design
With developing competencies for CBE, we really rely on a Backwards Design model–this will probably look familiar, as we advocate for employing a Backwards Design model with our online courses, as well as with our proficiency-based teaching and learning models here at UMPI.  To get into the right brain-space to start thinking about competency-based design and delivery, let's first deconstruct what a competency is, what it is not, and how it differs from our online courses.  The rest of the resources on this page will help introduce you to the support systems in place, to assist you in your competency development.
What is competence?
Yourdictionary.com defines competency in the following way:
The definition of competence is your skill or ability in a specific field or subject¹
Or, to frame it another way–we are measuring how students are able to apply skills and knowledge of concepts on specific tasks–not necessarily how they perform on tests, their time-management strategies, or the amount of time spent on content over the course of a semester. Benefits of CBE Learning include:
Relevance to the real world–because of the focus on the application of knowledge, as opposed to rote memorization, the most successful formative and summative assessments are connected to the student's real-world interactions. 

Pro-tip:

 steer clear from content which just states mere facts, instead choose scenarios, story-telling-based content and case studies which model the application of the skills.

A focus on application & mastery

–competency-based learning (by its nature) does not allow students to move on to the next level before they have demonstrated specific skills.  This is why we advocate for adaptive design and provide multiple opportunities to apply skills via Milestone assessments throughout each competency.  

Pro-tip:

 Be crystal clear about the Learning Outcomes from the syllabus and course Overview page, are measured in each milestone–clearly communicate how each milestone and activity connects to formal assessments.

Transfer ownership and accountability–because our YourPace students are employed adults, and in the working world, and are able to easily transfer in credits for prior learning experiences–and not focused on a semester time-period or seat-time, we are able to shift the student into the driving seat of their own educational experience. 

Pro-tip:

 take advantage of this transfer of ownership and accountability by encouraging students to reflect on how the skills they are learning in this competency can be applied in their current or future careers.

Self-paced and flexible

–because of the detachment of the structure of a 15-week semester or week/clock-based engagement requirements, learners are able to progress as quickly as they can demonstrate mastery–and likewise, can slow down as needed.  

Pro-tip:

 creating a competency with an adaptive structure whenever possible allows further personalization, as this allows students a chance to demonstrate what they know first, and generates a personalized learning pathway to drive students to the content that they still need to master (note: students will still need to apply those skills in your Milestone assessments–even if they 'ace' an Outcome-level pre-test).

Supports holistic development

–one of the great benefits of CBE learning is that it focused on the integrated development and (at best) introspection of the individual student–they are learning skills and concepts which are connected to how they can use them, intrinsically linking the theory of a liberal arts education to the practice of being a thoughtful, valuable employee and global citizen.  
1. "Competence." YourDictionary. LoveToKnow. www.yourdictionary.com/competence.
Faculty development sessions to support competency creation for YourPace programming
Your support team
Your Competency design support team has several arms, but you will work the most closely with:
Heather Nunez-Olmstead, as an Instructional Design Specialist, Heather will help you navigate the process of translating courses into competencies.  Contact Heather at: heather.nunez@maine.edu or call (207)768-9544
Courtney Boma, as Faculty Liason, Courtney will help you manage your workflow timeline, provide you with important templates and processes and deploy your Strut competence shell when it is time.  She will also connect you with your self-paced CBE training course in the Strut platform.  Contact Courtney at courtney.boma@maine.edu or call (207)768-9437
Academic Partnership Support is also available to provide Instructional Design support for help with competency-building, and providing training and resources for reaching adult and online learners.
A different LMS, for a different purpose
Our YouPace program is specifically designed to help connect working adults with pathways to a UMPI degree–without the confines of the semester-based course–and in a way allows them to balance what they already know and can do, with a platform that leverages UMPI faculty-designed curriculum, and the student-centered support that draws students to our great campus.  The need to deliver self-paced, dynamic content, without the ties to a rigid semester-based schedule led us to Strut (formerly Sagence)–a leader in CBE content delivery.  The video below outlines the student experience (and note that the branding has not been updated yet)
The YourPace program and Strut LMS support several distinct faculty roles–you may fulfill one or more (depending on your contracted role).  They are:
Curriculum development faculty, working within the Compose side of the house, to design and develop content, activities, assessments, and rubrics for each competency, and ensure its alignment with UMPI course offerings.
Delivering faculty, who are grading against pre-developed rubrics and providing feedback and support as learners work their way through the competency, on the Cognify side
Considering adult learning theories
Meeting adult learner AND online learner needs
Tools and strategies we love for CBE design & delivery
If you would like to brainstorm about how to utilize any of these tools and/or strategies, please reach out to schedule an appointment!