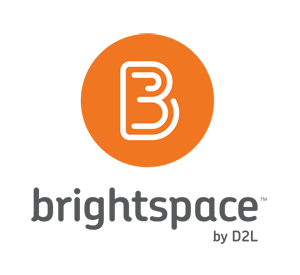 The future looks bright, with Brightspace
Brightspace by D2L, is the learning management system (LMS) favored during this year's call-for-proposal for a new Learning Management System (LMS) was overwhelmingly favored by UMPI faculty and staff (in fact, 74% of UMPI folks who participated, listed Brightspace as the LMS that is capable of best meeting our needs)–let's review some reasons we communicated:
"Brightspace

's compatibility with our own academic structures and initiatives"

"Excellent mobile and device flexibility, m

obile adaptability for faculty/grading and student use through app OR browser"

"Communication ease and personalized feedback features"

"The ability to link content, assessments, rubrics and individual test questions to Outcomes"

"Easy to use student engagement data and analytics dashboard"

"The ability to customize for our campus needs and features like student Portfolio and resource repository"
And, that is just the tip of the iceberg, as far as features that will be able to enhance teaching and learning, in our digital spaces with Brightspace.  This page is designed to walk you through some of the basic functionality of the Brightspace, as well as how we can 'do' the stuff in Brightspace, that we are used to 'doing' in Blackboard.  You can access Brightspace right now, at courses.maine.edu!
Note: although our Institutional structures and templates are still being built–by the time we are ready to launch in Fall 2020, we will have a fully functional template structure to better meet our Academic Commitments and Quality Matters standards.  Be sure to check back often, for more info and support!

Matching your tool to your instructional need
In Higher Ed, the Learning Management System (LMS), like all education technology, is specifically used to promote or enhance education. There are many possibilities for content configuration and potential supporting tools in the educational technology realm–some of which are seamlessly incorporated into the LMS, some of which can be adapted to you instructional need, and some that could create potential challenges because of the LMS structure, student access, hardware or software requirements–be sure in your design and development process, you take the time to carefully map not only the content but (when using educational technologies), the path and process students will have to follow to be successful.
One great attribute of the Brightspace environment is that it is fully device adaptive, and has a great student app, called Pulse. Understanding how these tools can help students access information and be successful in our classes is an important piece of the teaching process at UMPI. 
Brightspace User Documentation and Manuals
Brightspace User Manuals
CTL-created User Guides
Intro to the Platform Videos
Introduction to the Platform
Let's Quickly review the basics of Brightspace with the Intro to Brightspace webinar recording: 
 For even more video archives, please check out our Past Event Archives page
Top 8 Student-Requested Strategies
The following list represents tools and strategies that UMPI students have identified as being very beneficial to their learning:
Use the Announcements tool to post weekly to-dos and due dates
Use content modules, to keep folders of content and tasks altogether, so that students see their progress bars
When creating new assignments, discussions, and activities, don't forget to add a Due Date, to auto-populate the calendar, and send reminders to students
Embed Youtube and Kaltura videos right into your content modules, for smooth viewing experiences
Faculty use Brightspace tools in different ways–create a short class tour video to let students know how YOU will use it
Place quick access links to assignments, discussions, and quizzes/tests in the modules with that week's/unit's learning content
Consider using the Checklist tool at the beginning or end of a module, if you have a lot of diverse tasks
Set up the ability to "manually check completion" on non-required content, so that students can control the progress bar
Want to dig even deeper into the Brightspace knowledge base?
As a member of the Brightspace Community, you can not only access training–you have to ability to access the entire wider community–to crowdsource answers, troubleshoot, and even request amazing new features in the Product Idea Exchange (PIE).  Become a member and log in to access the most from this great Community!
Go to the Brightspace Community
Submit an Idea to the PIE