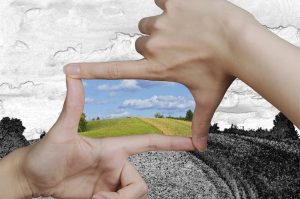 Creating your content and curating course materials
Okay, your learning outcomes are written (and they are measurable!), you have your assessments planned, and they map perfectly to your learning outcomes–now we need to get students from the introduction to the course, to a successful demonstration of skill sets!  That pathway is our content!  Regardless of your teaching modalities, you will need to spend some time thinking about your course content and gathering (or making) materials.
Course content and course materials, what's the difference?
When you are creating the content students need to be successful in your course, you are really crafting an explanation of your ideas and knowledge, wrapped in context so that students understand how that idea fits in with other ideas and concepts throughout the course.  Content is anchored in the experience and expertise that you, as faculty bring to the classroom–and is evidenced in the collection of experiences, activities, materials, and assessment that your class contains as a whole.
Course materials are the pieces of the whole and can be delivered as primary texts, faculty-created videos, curated web-based content, films, documents, images, presentations, and any combination of listed items that will help students build the understanding, skills, and knowledge they need to succeed in course assessments and the learning outcomes of the course.
What types of materials will I have to think about?
Here are some common types of materials and software faculty use to create them
Text or presentation-based materials
Microsoft Word Documents
Powerpoint presentations
Google Slides presentation
Google Docs
LMS text-based pages & communications
Multimedia materials
Creating learning graphics/illustrations
Infographics and/or charts
Producing learning videos
Recording podcasts and audio-files
Creating interactive polls/surveys
Exploring UMPI's Library Resources
Roger Getz at the UMPI Library is a valuable resource when it comes to searching for just the right resource for your course.  He can help you easily navigate:
Roger should also be on your speed dial, for copyright concerns or questions.
Exploring Open Education Resources (OER)
Open Education Resources (OER) are simply educational materials that have an open licence or are in the public domain.  The nature of these open materials means that anyone can legally and freely copy, use, adapt and re-share them. OERs range from textbooks to curricula, syllabi, lecture notes, assignments, tests, projects, audio, video, and animation.
Typically OERs are licensed under a Creative Commons license which allows free use and re-uses with appropriate attribution. 
Here is a short list of OER clearinghouses:
University of Maine System supported tools
To get the highest level of support, from downloading software to creating, to troubleshooting when something is not working, opt for the wide variety of tools supported by the University of Maine System IT team.  These include:
When you need to think about creating content
Sometimes looking for just the right content can be exhausting, then–when you find just the right graphic, there are copyright concerns.  Tech tools are getting increasingly easy to use–both for you in your course material creation, and to recommend for students for projects or presentations.  Grab your local ID, if you need help getting started with any of these great resources: