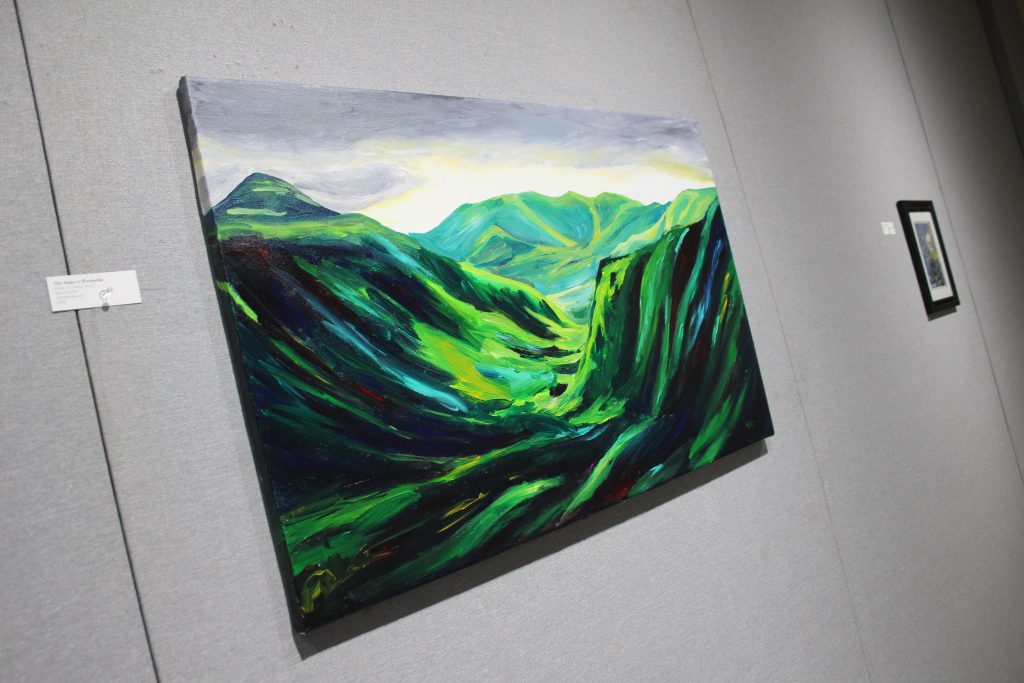 University of Maine at Presque Isle's annual homecoming is designed to bring people near and far and of all ages together.  And that's exactly what the Alumni Art Show did  Three different UMPI alumni showed work in the art show this year.
"I had my BFA sesior Show at UMPI, as well as a few other student shows, but this is my first show there as an alum. I was excited when Rowena proposed the idea of this show," Kati Christoffel said.
Christoffel, Rowena McPherson, UMPI's graphic designer, and Karrie Whisler displayed work in the show.
Christoffel received her BFA from UMPI in 2014. She submitted a small collection of lighthouses and a painting of mountains. "I made the lighthouse series because I was living in Portland and wanted to make a new series of 12 pieces for a calendar, and I figured that locals would like it," Christoffel said.  "I chose to display the lighthouses in this show because I like them, and they are small so relatively inexpensive to frame and ship."
Christoffel particularly liked her painting of the mountains, "Nature, and where I currently am, generally inspires my work. I particularly like painting mountains and wild landscapes," she said, "I like to be able to express my feelings about a place through my work, and it's fun to take a gorgeous landscape and play with the lines and colors."
McPherson's work took up the majority of the show. She had a few different collections: some bigger, more abstract pieces and a more intense and raw series of small and close up watercolors. "The current work up now is a cross-section of my practice since I graduated. I've made it a point over the last few years to teach myself something new," McPherson said. "Each individual piece is inspired by something different, from raw emotion to peoples' faces, to just the little interactions in life."
McPherson is very busy and has a hard time finding time to create art, but she manages to do it. "We can all find reasons not to do something. I catch myself making excuses too," McPherson said, "If you don't have opportunities like that, find an art buddy and keep each other accountable for whatever goals you set. Or join a Facebook group. I don't actively participate much, but I'm part of a few groups that are wonderful inspiration."
Whisler displayed some more abstract pieces in this show and found inspiration in a unique place for the pieces she displayed in the show. "These particular pieces are part of a bigger collection I made inspired from a poem I wrote on an airplane ride home from Virginia.  The poem was very informal, more stream of conscious, and I titled each piece in the show after the line it was inspired by," Whisler said. "I like how these two pieces play off of each other when they're shown side by side.  I think there is something interesting about the color palette and the applied techniques."
Whisler was excited was she was asked to be a part of this show.  "I graduated with a BFA with concentrations in drawing, painting, photography and 3D design, and a BA in Art Education certified to teach K-12….  I truly loved my time at UMPI and love to come back any chance I can get."
These collections of work are up until the end of October is CC112 Gallery. If you get the chance, go admire the art.