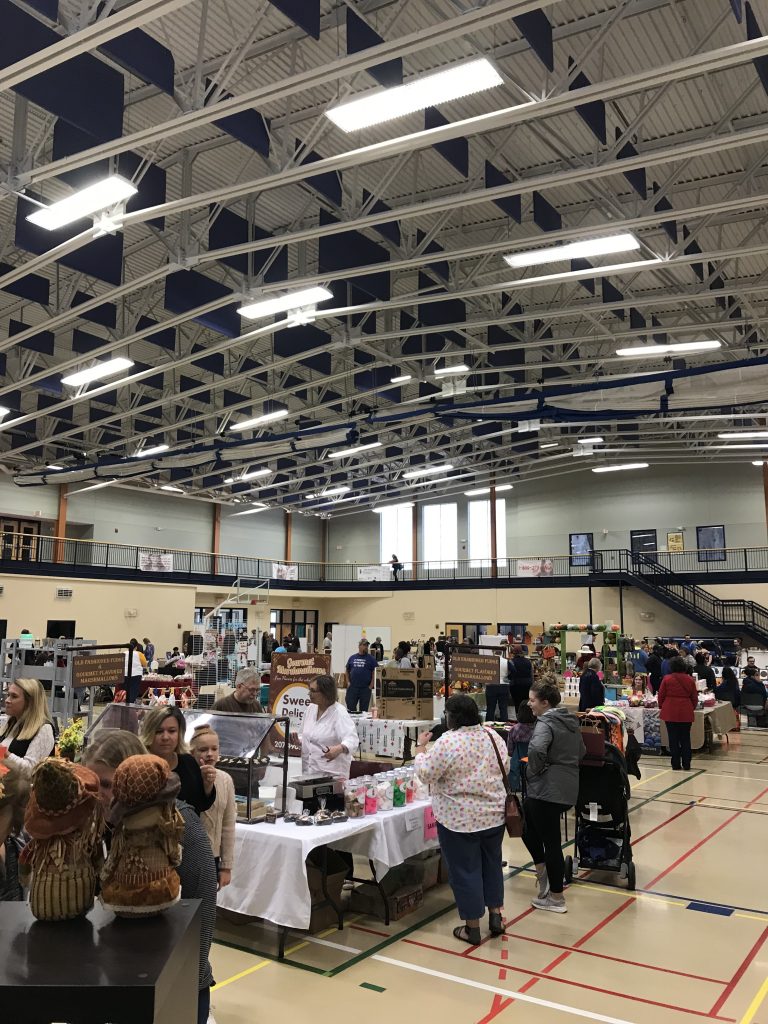 On Sept. 28, the University of Maine at Presque Isle hosted the Snowy Owl Marketplace as part of its Homecoming Weekend. From 9 a.m. to 3 p.m., Gentile Hall was filled with a variety of vendors and tables. Students and community members packed the gym in order to see what they could get their hands on during that Saturday.
Many university clubs and sport teams participated in the event, hoping to raise money for their program or organizations. The International Students club sold potatoes and noodles. The Bio-Med Club sold cookies. The History Club sold a variety of coffees. The Criminal Justice Club had lots of success by selling Krispy Kreme Donuts. University Times sold fruit cups, drinks and macaroni and cheese. The baseball team ran a concession stand, selling popcorn, candy, hotdogs, drinks and more. The softball team sold baked goods and coffee.
A diverse assortment of vendors from outside of campus also attended. Many arts and crafts tables were out on display. Another booth had soaps, lotions and bath bombs for sale. Many vendors had autumn and Halloween decorations. Jewelry, blankets and even flavored marshmallows were also sold during the marketplace.
Danielle Pelkey and Laurie Boucher, both employees in the UMPI student financial services office, ran a vendor booth at the marketplace. The pair sold customized crafts and gifts. "I think the Snowy Owl Marketplace went really well. There was a lot of participation from local crafters, artisans, vendors and student organizations/clubs. There's already brainstorming taking place for next year to make it even better. It was nice having it located at Gentile Hall where the weather didn't affect the set up and more individuals were able to take part in," Danielle Pelkey said. "We will definitely be participating again in the future. It was a great way to showcase our homemade and customized items for upcoming holidays."
The year's Snowy Owl Marketplace was different from the others held in the previous years. In past years, the marketplace was called the block party. The term Snowy Owl Marketplace is now its new and improved name. The past events were also always held outside at the tennis courts. Due to the weather, Homecoming organizers decided to change the location. A Car Show was held outside of Gentile, which brought in some visitors to the event. UMPI's men's and women's soccer teams also competed in games during the time of the marketplace, bringing in more people.
"I had a great time. I really enjoyed coming out with friends and looking at arts and crafts, jewelry, artwork and homemade baked goods vendors had to offer. It also was very affordable, which gave me a lot to choose from. Even with being indoors, it didn't take away from the whole marketplace feel. Going to the Snowy Owl Marketplace is something I definitely would do again," UMPI sophomore Savannah Borland said.
This year's Snowy Owl Marketplace brought hundreds of UMPI students, staff and community members together for a special day that will be looked forward to during next year's Homecoming weekend.