University Day recently made its return for the first time since 2019. Abi Davis, a senior in the Professional Communication and Journalism major, gave a presentation on her senior practicum. Her project on the outside seemed simple. But her presentation proved that it was anything but.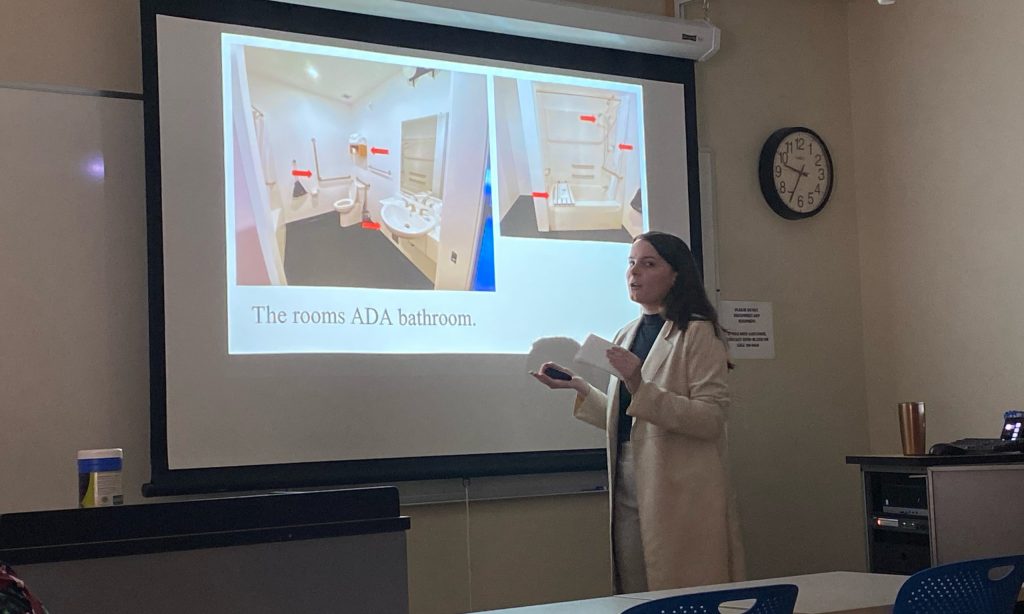 Abi's professor, Dr. Jacqui Lowman, is a wheelchair user with two service dogs. In fact, she is the only employee in the University of Maine System who falls into that category. Dr. J., as her students call her, has proven many times that labels are meaningless for her. She has gone skiing, climbed Mt. Katahdin and hiked parts of the Appalachian Trail.
     In the fall of 2022, Dr. J. will add to her resume. She will make the long voyage driving from her home in Crouseville, Maine, to Alaska– and back, of course. Abi's practicum was to hash out the logistics for her. "Dr. J. mentioned that this was a trip they were going to be taking and I said, 'I think that's right up my alley,'" Abi said. 
     With this task came a lot of intricate details. Every hotel and gas station had to be planned out and researched for accessibility. Information on this is extremely hard to find. "I ended up calling two big oil companies and really nagging them for information on accessibility," Abi said in her presentation. 
     Abi's role in Dr. J.'s trip gives them much more peace of mind. The Lowmans now know that where they are going will work for them. "Having another person with that level of expertise…. It was a great project for her and was extremely helpful," Dr. Lowman said.     
     Abi saw the bigger picture in this project of helping Dr. J. She has also found a joy in helping others. "This class and the PCJ program as a whole have inspired my passion in advocacy and helping marginalized groups find their voices."
     "The Road to Alaska" brought up a lot of things most of us would not think about. Driving from Maine to Alaska is daunting enough. But adding two service dogs and a wheelchair to the mix makes it even more so. But despite the many challenges, Abi couldn't have found the project more rewarding. "Overall, my favorite part of this class was the opportunity of having the one-on-one time with Dr. J."