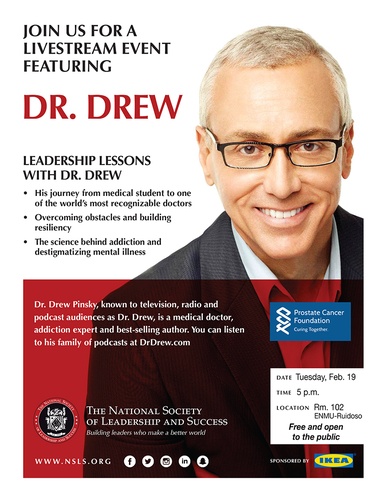 The University of Maine at Presque Isle's National Society of Leadership and Success hosted a livestream event on Tuesday, Feb. 19, featuring Dr. Drew Pinksy. People viewed the lecture, titled Leadership Lessons with Dr. Drew, across the country on college campuses, including UMPI's Wieden Auditorium.
Dr. David Drew Pinksy is a medical doctor, television personality, addiction expert and best-selling author. He is commonly known from the television shows "Celebrity Rehab with Dr. Drew," "Loveline," "Teen Mom" and more. His journey from medical student to one of the most recognizable doctors in the world has given him leadership skills, which he shared through his presentation. Dr. Drew also expressed his knowledge of addiction and mental illness from his years of experience.
"Here at the NSLS we always have very interesting presenters, and Dr. Drew was definitely one of them. He gave a great lecture on a very important topic—leadership.  And I think that those that had the chance to listen to him, either from the event or online, surely learned a lot," Evan Zarkadas, vice president of the NSLS UMPI chapter, said.
Dr. Drew told his story during the lecture, sharing his own path to success. He also answered questions throughout the presentation from students on college campuses around the nation. Through the year, the NSLS hosts lectures from recognizable leaders and celebrities who share their insights into success. Each lecture is different because of the variety of speakers, but all presenters share their idea of leadership and what it takes to be successful.
"We're hoping that Dr. Drew's talk will help enlighten people on what goes on out there in terms of illness and addiction.  Although we may not be able to help others directly, staying educated and being understanding can help a lot," Tiffany Smith, the student president of the NSLS UMPI chapter, said.