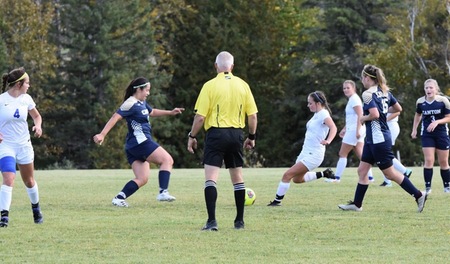 The University of Maine at Presque Isle's women's soccer team faced what could have been a major setback mid-season. Last season former coach, Trevor Parent, announced his resignation. Rallying together after the announcement, the team members pushed through a series of changes. Dan Kane, UMPI's athletic director and head coach of the men's basketball team, was there for the women when the news broke. Assuring the team that a temporary coaching staff would be assembled, Kane eagerly got to work.
But the reassurance did not stop there. Mikayla Churchill, along with Jordi Legassie, was one of two senior captains last season. Parent's resignation was a shock and led many women to question the program. "I would say it was a low point just because it was almost the middle of the season," Churchill said. "We weren't sure what was going to happen or who exactly was going to step in. When the coach leaves, you have to start over and that was a worry for people." Churchill and Legassie's leadership skills kicked into overdrive, though, when teammates expressed their concerns. "Jordi and I both tried to encourage the girls that it's a bump in the road, but that we still are here to play soccer," Churchill said. "No matter who's coaching, we still have the goal to win, have fun and be a team."
Soon after, the women's soccer team members were introduced to their new, at the time temporary, coaches. Aaron Marston, and wife Keli, happily took on the challenge of coordinating practices and getting to know the women. The two were a hit with the team from the start. "It was just a natural fit for us to take it on. I don't think that either one of us realized how much we would enjoy it until we started coaching. It's been really rewarding and a good challenge," Marston said. "We're looking forward to continuing to build the program."
Now in the off season, many members of the team have continued improving their physical fitness while Marston has been busy recruiting players. "When I started recruiting, I looked local first," Marston said. From here, Marston began realizing he had a lot of soccer connections throughout the state. "As far as recruiting, we started there and I started going around to local practices and games," Marston said. He went on to talk about how he spoke with players and their coaches about skill level. "We worked social media, phones, we text messaged," he said. "We did personal visits and campus visits for athletes, and it's paid off."
Marston was happy to report that he currently has 12 incoming freshmen who will be joining the team. "Of those incoming freshmen, I believe that six or seven were all-conference players in high school," Marston said. He believes this is a good step forward. Marston is looking to follow this with another good recruiting class behind it.
Kelsey Robinson is one of the team's four new captains. Robinson is looking forward to the upcoming season. "I definitely think we'll have a lot more growth and a lot more athleticism coming in," Robinson said. "We're supposed to get a lot of girls, so it'll be good to have rested legs. I feel like we'll come out with more wins this season." Robinson also shared how a lot of returners are both excited and nervous about next season. "It's new coaches and new expectations," Robinson said. "It'll make it a lot better for the team if we can get the newer girls involved."
The last six months have been trying for UMPI's women's soccer team. Overcoming an obstacle mid-season, though, the members have grown together. What used to be a disjointed group is now becoming a strong and athletic-looking team. The potential for this young and growing group is expanding. Continuing hard work on and off the field will be this team's key to success in the season ahead.