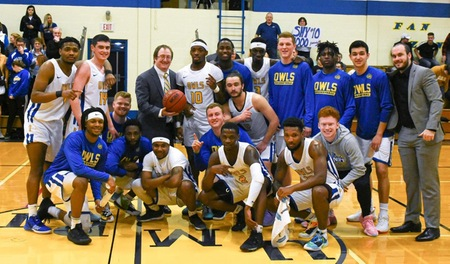 University of Maine at Presque Isle star basketball player Shyquinn Dix collected his 1,000 point in his college career on Jan. 28 against Unity College. Hundreds gathered in Wieden gymnasium to watch the team and wait for Dix to hit the milestone, which was only 7 points away.
The Owls started strong, immediately pushing past Unity. Within minutes of the game, Dix made a 3-pointer. Moments later, he scored a 2-point jumper. The crowd grew quiet, waiting for the Owl's next possession. After a turnover from Unity, the ball fell into Dix's hands. Dix made his way down the court, with an easy layup, scoring his 1,000 point as a collegiate basketball player. The crowd exploded, giving Dix a minute standing ovation. UMPI coaches and the entire team ran onto the court to celebrate with Dix and his accomplishment.
"Shy is a person that in his last couple years here at UMPI, has been very successful on and off the court in a lot that he has done and has had a lot of praise (well deserved) around UMPI. He is a tough kid, and any negative criticism he just ignores or even better uses it as fuel. But when it comes to constructive criticism, he wants it and needs it," UMPI Assistant Basketball Coach Mark Knight said. "I am very proud of what he has accomplished so far and will be even more proud when I see what he will accomplish throughout the rest of his life."
Dix, a junior from Stamford, Conn., not only accomplished greatness on the court, but has overcome much bigger obstacles throughout his life. In March of 2019, Shyquinn Dix was featured on CBS News "60 Minutes." The special covered a German-style prison at a Connecticut maximum security prison, which Dix participated in after he was sentenced to four years of prison for being a part of a check-fraud scheme. Dix was a part of the T.R.U.E. program, which is a prison program that focuses on individual reform for 18-25-year-old offenders, providing them with older inmate mentors, life-skills classes and much more positive interaction with correctional officers.
After success in the program, Dix bonded with a correctional officer, James Vassar, who helped him connect with UMPI Head Basketball Coach Dan Kane. After months of communication and finally meeting Dix, Kane welcomed him to the UMPI basketball program. His addition to the team not only helped Dix himself, but also the team, as Dix led them to the North Atlantic Conference tournament for the first time in program history during the 2018-2019 season.
"Shy and I have been through quite a bit in the short time period that we have known each other. I would say it is a relationship that is built on mutual respect and trust and wanting the best for Shy's future," Dan Kane said. "I am very proud of the hard work Shy has put in on the court, in the classroom and in his personal life. I think Shy would admit as any of us would, there is still room to grow, but seeing him strive to be the best father, son, sibling, friend, teammate and basketball player he can be does make me very proud and with all my players and all the student-athletes at UMPI, that is what motivates me to come to work every day."
Partly through Shyquinn Dix's leadership and talent, the Owls have once again reached the North Atlantic Conference tournament during the end of their season.