We kicked off our morning with breakfast (Japanese, Korean, American and Chinese options at the buffet!) and then a walk to the offices of Bohua Education Group, which is just a few blocks from the hotel. Even though it was only 9 a.m., it was already at least 85 degrees outside. And it was pretty warm inside, too. A full morning of meetings with officials from Bohua (which oversees about 6 different educational entities), including Executive Director Wu Weiqiang, and Phoenix New Union Education Tech Co., Ltd. (which includes a school focused on TV broadcasting and mass communication).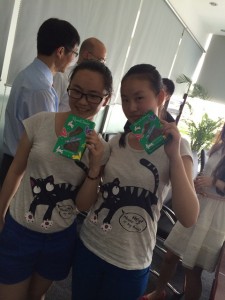 And then we had an opportunity to give a presentation about UMPI to several Chinese high school students connected with Phoenix who are considering attending our campus. Great interviews with the students and it's safe to say we loved the matching shirts two of them wore as much as they loved the chocolate bunnies Huidu Lu gave them as small gifts from the U.S. "Oh, so cute!" they exclaimed upon receiving them.

Lunch was an unexpected delight–for many of us, it was our first experience dining in the traditional Chinese style, at a large, round table where the (MANY) dishes are placed on a center rotating disc and diners grab a little bit of this or that as it glides by. Needless to say, it was delicious. And to eat in a restaurant located in what was once the Olympic Village was pretty impressive, too.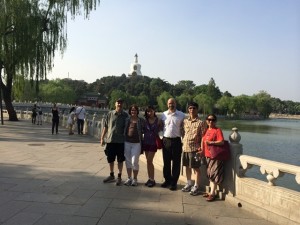 The adventure of the afternoon? Beihai Park–a beautiful, tranquil spot that was once an imperial garden and is now open to the public.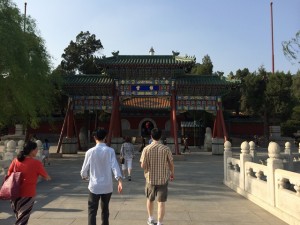 We walked through temples, hung our good wishes for happiness, and even sampled some new-to-us flavors of Chinese ice cream (potato, for example).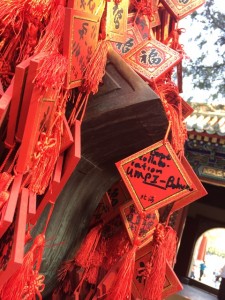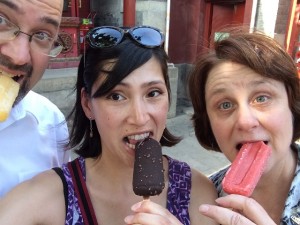 The view from the White Dagoba was gorgeous and after climbing all the stairs it took us to get to it, we enjoyed a short trip through a cool cave and then a boat ride across taihu lake before heading to our next destination–dinner at another excellent restaurant.
The room was just as lavish and there was even more food than at lunch. We were joined by the parents of one of our current UMPI students who hails from China and had a lovely evening of eating, merry-making, and following the tradition of the Chinese toast. Many toasts during a special meal are commonplace and after the toast is made, they say, "ganbei" which means "bottoms up". More of those to come, we're sure!