To make up for our busy Sunday and to relax a bit before our big trip home, we were able to spend the day taking in the sights and sounds of Xi'an. Our Siyuan hostess Feng Xin took us to the beautiful old city wall. The huge, fortress-like wall (one of the oldest and best preserved in China and tentatively included on UNESCO's World Heritage list) used to encompass the old city and designers were careful (and smart) to work the wall into their plans as the city expanded. For example, some of the roadways cut right through the walls, but arches have been built to accommodate them in a style that befits the ancient architecture.
An underground walkway took us to the South Gate, an impressive and beautifully restored structure. In the courtyard, we were encouraged to enjoy several traditional Chinese toys and take group photos.
We were there just in time to view a performance of a ceremonial changing of the guard as it would have been done centuries ago.
Climbing the steps from the courtyard, we could actually walk the length of the wall and view the gate and several other small buildings up close. The surrounding grounds were lush and the 360 degree view of the city was gorgeous. So much beautiful architecture—we had to laugh when we pointed to a very detailed traditional-style building and asked what it was and were told it was just a restaurant.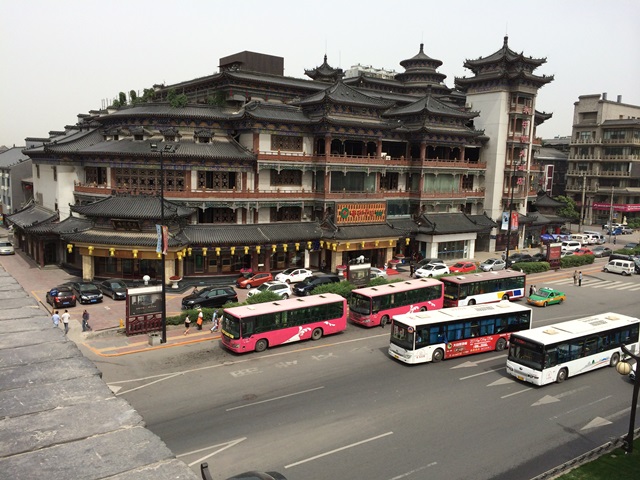 Watching friends and couples taking in the wall on bikes encouraged us to do the same, so we secured three tandem bikes and then headed for the West Gate and more impressive sights of the city.
A complete ride around the wall would have been about 13 kilometers, so we opted to turn around at the West Gate and head back to our starting point (which still allowed us to cover about half the distance around the wall).
Lunch was next on the schedule and this time we went to a spot famous for its Chinese dumplings. On the walk there, we happened by a tent where salespeople were touting the next big revolution in fitness equipment—a kind of vibrating stepper. It was hilarious to watch all the locals and tourists just standing on those platforms and jiggling away. But Tom topped that by taking his own turn on one of the machines and inserting a few very signature arm movements into the routine.
Appetite worked up, we climbed to the second floor of our restaurant and were seated at another traditional Chinese round table. We ordered five different types of dumplings and several more delicious dishes to share and then dug in.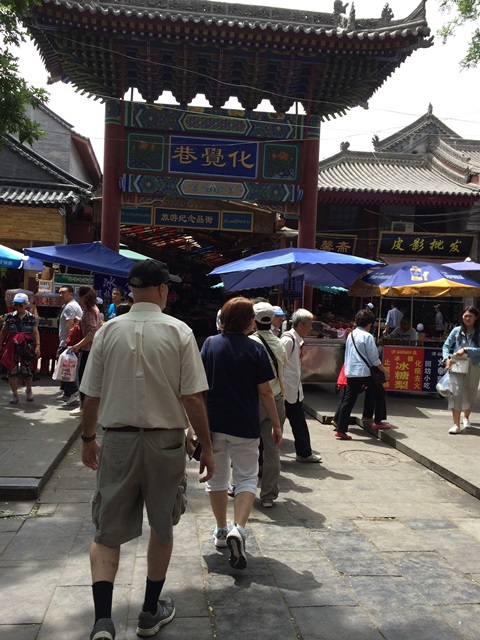 The plan for the afternoon was to explore the local market, which started (rather strategically) just outside of our restaurant. A long walkway extended about the length of a city block alongside the big building where our restaurant and tons of small shops were housed. Several items caught our eyes, but Dr. Lu suggested we keep looking for better deals. Across a bustling street, we entered the narrow, roof-covered walkways and crowded shops of the market proper. Here, you could find just about anything and everything you could want—quilted fish backpacks, brass pocket watches, the leather belts with prominent silver buckles that Chinese businessmen seemed to favor, colorful shoes, miniature Buddhas, dragons, lions, and coinage, home decorations, jewelry, hats, scarves, toys, food, sim cards and other electronics. And the haggling was at a fever pitch. We lasted a few hours, and despite our group getting separated on at least two occasions, we all walked away with some great deals on gifts to bring home.
After more than a week of activities and meetings, half the group opted to head back to the hotel while the other half explored another market and then enjoyed dinner at a restaurant featuring local handmade noodles. The signature dish? A very hard to eat 3.8-meter-long flat noodle served in a giant bowl with two "dipping broths" on the side.
The group met back at the hotel at 8:30 p.m. for the signing of a letter of intent with Siyuan University. Director Zhou was there representing Siyuan and President Schott, Dr. Rice and Dr. Lu participated on behalf of UMPI. Following the signing and picture-taking, Director Zhou led a round of hearty handshaking and all were pleased to have reached this milestone in our collaborative efforts.
Director Zhou said he'd see us in the morning for our send-off to the airport and then it was off to our rooms to pack and get a good night's rest ahead of another long day of international travel.