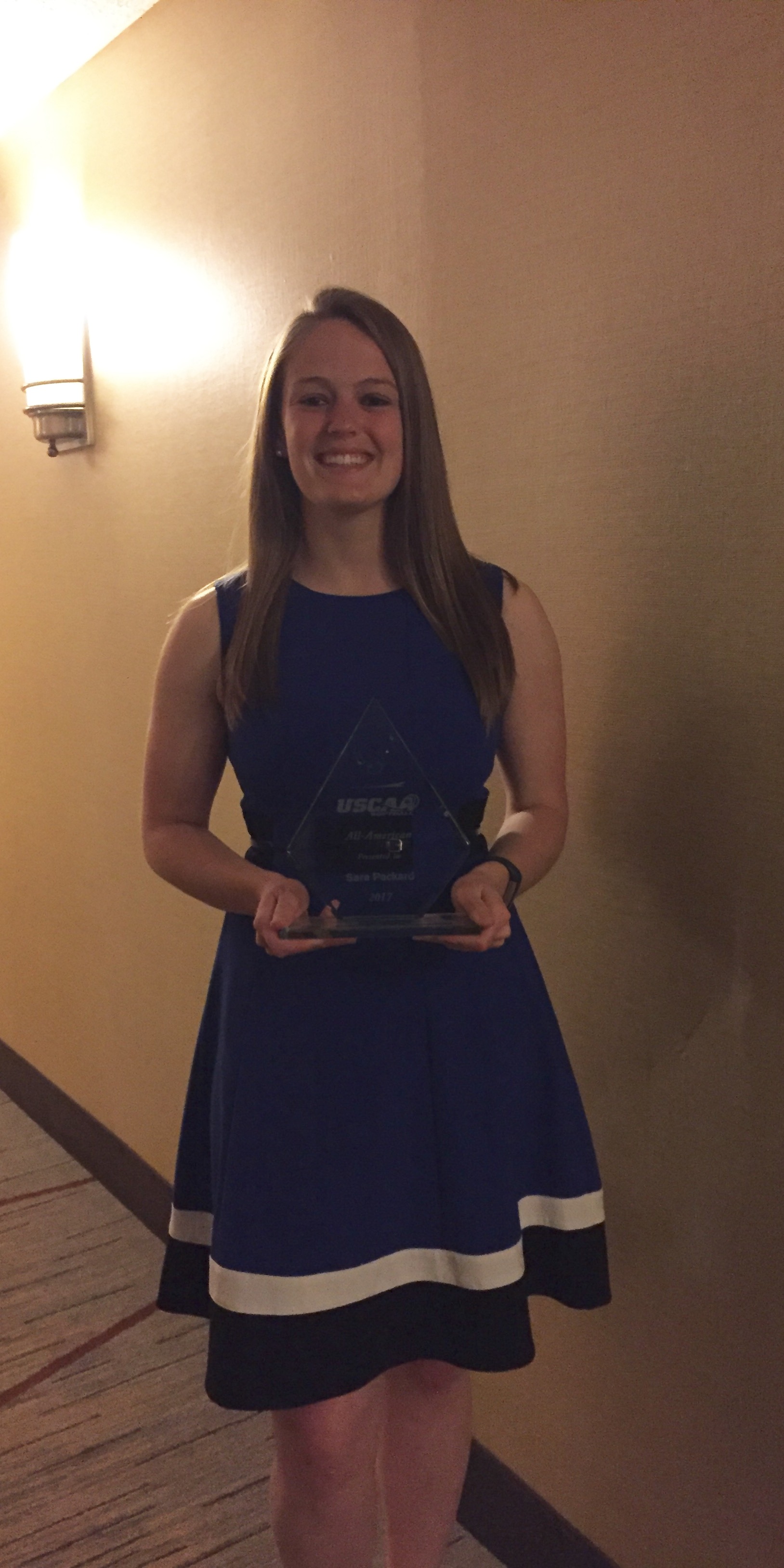 This month's Student Spotlight features UMPI student Sara Packard. Sara is from Saint Albans, Maine. She is a senior and she studies athletic training, with a minor in physical education.
     Sara came to UMPI from Nokomis High School (Newport, Maine), where she excelled in softball, basketball and soccer. She was recruited to play softball at UMPI by previous head softball coach Peter Coffin. Sara chose to attend UMPI because it has a great athletic training program and because UMPI gave her the chance to play college softball (and basketball, which she played at UMPI her freshman year). Sara's father, David Packard, athletic director at Lawrence High School (Fairfield, Maine), also attended UMPI, where he played for the UMPI Owls men's basketball team and earned a degree in education.
     Sara is a senior staff resident assistant this year on campus, after having served as a resident assistant during her sophomore and junior years. Her leadership skills extend to the UMPI Owls softball program, where she has been the starting pitcher the last three seasons. In addition to her pitching ability, Sara is a great hitter: last season she had a .350 batting average and hit four home runs (she hit five home runs the year before that). Her accomplishments on the field have netted her United States Collegiate Athletic Association First-Team All-American honors and First-Team All Division III Independents honors the past two seasons.
     Last year Sara won the UMPI Softball Coach's Award (along with Alissa Edwards, the co-recipient).  She also won the UMPI Al Arman "Make a Difference" Award (along with female co-recipient Abigail Deveau), which is presented to the student-athletes or students who truly have made a difference within athletics and/or the campus community.
     Due to Sara's talent, and because of head coach Sara Shaw's excellent work leading the program, the UMPI Owls softball team has had enormous success the past two seasons, boasting a record of 48-31 during the span and qualifying for the USCAA National Tournament in Akron, Ohio, the last two postseasons. With an influx of young talent on this year's team, Sara hopes for this softball season to be successful as well. It is inarguable that because of Sara's on-field abilities and head coach Shaw's steady leadership, the UMPI Owls Softball program has become one of the bright spots in UMPI athletics.
     In addition to her athletic prowess and leadership skills, Sara excels academically. She makes great grades within the athletic training major.  She has completed hundreds of hours of clinical experience and internships, honing her athletic training skills with such entities as the University of Maine Black Bears football team, Maine General Medical Center and the Lawrence High School and Presque Isle High School athletic teams. Sara enjoys athletic training because it allows her to be involved with both sports and the medical field.
     When Sara has free time, she enjoys watching her favorite television shows: "New Girl," "NCIS" and "Parks and Recreation." Her favorite movie is "Remember the Titans" and she enjoys listening to AC/DC, Billy Joel and other classic rock music. Her favorite food is lobster and she likes visiting the website Pinterest. One of her favorite aphorisms is, "It is what it is."
     Sara likes UMPI because of the people. "The people are kind, caring and genuine," she said.  "And the professors take an interest in students' learning." She says of head softball coach Sara Shaw, "She wants athletes to succeed in softball and in life. She wants them to become better athletes and better people."
     Shaw, likewise, is effusive in her praise of Sara as a student, athlete, leader and person. Shaw said, "I find it hard to put into words how highly I think of Sara Packard as a person, student and athlete. Sara is an excellent example of someone who has stayed focused during her time in college. When her friends were out, she was studying and she was in the gym. She stays focused on her goals and stays true to her own moral compass. Sara has put in the work to actively engage with her teammates and be a good captain and leader in the program. Sara is truly someone that younger athletes can look up to. Sara Packard will always be a huge part of this program.  Her influence will carry on long after she is gone and as her coach, I could not be more proud of her."
     UMPI is lucky to have Sara Packard. She is a tremendous leader, student and athlete. The AmeriCorner congratulates her on her successes.