Professor John F. DeFelice is an associate professor of history at the University of Maine at Presque Isle. He has been teaching at the university since Sept. 1, 2000. DeFelice teaches courses on the ancient world, premodern Europe, colonialism and modern China. He also teaches an honors seminar every few years. In addition, in some of the classes DeFelice teaches Reacting to the Past games. The Reacting to the Past games involve students taking on roles and writing assignments from the view of a specific person in history. Each role plays a part in the game. What is unique is that only a few other campuses in the United States are doing this as well.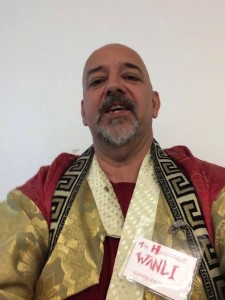 DeFelice's dissertation, "Roman Hospitality," was published soon after he arrived at UMPI. He has also published the chapter on inns and taverns in "The World of Pompeii" (Routledge, 2010). He has written a number of book reviews and has had a number of smaller publications. He said, "What I am most proud of is the long work in writing two articles for the "Dictionary of Daily Life in Biblical and Post-Biblical Antiquity." One is on slavery and the other is on prostitution. These are long, peer-reviewed articles that cover the subject in six different cultures and periods of ancient history. These articles took seven years of research and editing and finally are in print this year. The editor is my graduate advisor, Edwin Yamauchi. The co-editor is my Hebrew professor from when I was an undergraduate. It was an honor to be asked to contribute to this publication."
De Felice lives with his wife Gwen, to whom he has been married for 38 years, and his shepherd husky mix Dexter. What about his free time? He says, "Free time? What's that? But I do a lot of reading, all kinds of fiction genres. I play occasional video games. I love to walk every day with a large, unruly dog. In the summer I cycle and occasionally hike. And I like to cook."
DeFelice did not always want to be a teacher " I am quite surprised with my career. I was very interested in archaeology as a high school student and as a college freshman. But there was a 14-year gap between my freshman and sophomore year. During that time I worked as an ophthalmic technician, served as a fireman and in crash injury management, had a job in store security and even considered entering the ministry when I was young. I even served two terms as a Chamber of Commerce president in Connecticut and owned a couple of optical stores in the 1980s. When I was 33, I decided to return to school and never looked back until I had a Ph.D. That was unexpected too. I thought I'd get a bachelor's degree and get a job. I was pleasantly surprised at how much I enjoyed school."
What influenced him to teach, he said, was, "In part, my mother always felt it was where my strengths really were. She was right. I spent a long time wanting to be something else, but I kept returning to that idea. Once I was in an education environment, it became natural for me. I cannot really explain the mechanism. Maybe it was the extensive notes I took during each lecture. I always figured that the sharing of information was as important as learning it in the first place. It just seemed natural."
DeFelice decided to teach history due to his advisor who inspired him when he was an undergraduate. History always interested him and when he met his advisor in grad school he was hooked. His favorite period in history is the ancient world with Rome in particular.
Marianne Bell, a student of DeFelice, said, "I find Dr. De Felice's intelligent and unorthodox teaching methods very refreshing. Dr. 'D' is patient and well spoken. His lectures hold everyone's attention as he interjects the boring parts with bits of his incredible humor. Dr. D is an excellent professor."
Another student of the professor, Michael Dobbs, says, "Dr. D. is easy to work with. If you do not understand something he will help break it down and relate it to something that you do understand. His quick responses to questions help make him one of the better instructors I have had. The Reacting to the
Past classes that he teaches have helped me better understand the subject matter. His use of this subjects that can be difficult for some have made learning both fun and easier to comprehend."
And the learning goes both ways. DeFelice said, "The list of things student have taught me is too long to share in detail. I learn every day from students. They inspire me to try new things, take new approaches and perspectives to history and education and remind me of the value of what I do."
DeFelice has advice for students. "Your time as a student is a unique experience that most people only get to do once in a lifetime. Get the most out of your education and the experience. Put your best effort into every class: even the ones that don't particularly inspire you. You never know what you will need in life. Every class is a tool for a future that hasn't been written yet. But at the same time, have fun. Enjoy the life and freedom you have right now. This too you only get to experience once. Make good memories and good friends."
What DeFelice would like to share about himself is that, "Generally I tend to be cheerful and an optimist. But I long for the day when humans learn to live at peace with each other and value those who are different from themselves. While being a historian is exciting to me, it is also depressing at times. Historians are the repository and memory of every terrible thing humans have done to one another. Violence and exploitation seem to be pandemic to our species. Historians are often the first ones to see echoes and harmonics of human mistakes in the past in our current world of war, religion and political rhetoric. I really wish we humans would learn from our mistakes. I don't often speak of this but it often comes to mind. Especially when surrounded by the empty promises and bellicose rants in an election year."