With more snow coming in and it being cold and windy, everyone is ready for summer. We cannot rush the seasons along, but you can escape winter at the UMPI campus. The Zillman Family Greenhouse is a great way to escape winter and all the snow. When you walk into the greenhouse, it is warm and smells fresh. As you walk through, there are plants growing up the wall and across the table. Green fills the room, beautiful pink and purple flowers are everywhere. The Zillman Family Greenhouse is just the place to be for that comforting summer feeling. This amazing greenhouse can be used in so many ways for not only the UMPI campus, but also for the Presque Isle community.
The greenhouse has brought lots of opportunity. UMPI had a harder time connecting with the Presque Isle community before. Now with fresh vegetables and flowers, we can donate and connect with the community around us. It has benefited students, faculty and staff who were not able to get fresh food. now get that chance. There is a club formed for the greenhouse, which is another great way to get involved in plants and more.
The Zillman Greenhouse Club is a great way to get involved with plants. Lindsay Pelletier, a junior at UMPI has been in the greenhouse club since her freshman year. Pelletier is majoring in agriculture and has learned so much while working in the greenhouse. "It is fun, I like plants, I like planting stuff, and I like getting my hands dirty." Pelletier said. She also helps with the UMPI garden. Every winter Pelletier and other club members plant tomatoes, peppers and more to transfer to the garden in the summer. There are some things that are not transferred and grow in the greenhouse, such as lettuce, carrots, cucumbers and more. The club plants microblade peas, which can be used while cooking and to put on a sandwich. There are many things to grow, and it gives students an opportunity to connect with the community.
So, what do they do with everything that they grow? Unfortunately, they cannot use the produce in the cafeteria at UMPI. Because UMPI is contracted with a different type of food system. But they do want to give students a chance at this fresh produce. Every year they send out an email to the entire UMPI community offering the produce. That way students, staff, and faculty can get a chance at fresh free produce. If there are extras the greenhouse club donates to GIFT food pantry in Presque Isle. This year Pelletier offered to donate flowers to her daughter's school for Valentine's Day. Pelletier said, "By donating food and flowers, it will build a better relationship with our community." The greenhouse club is trying to do more with UMPI and the Presque Isle community.
Larry Feinstein, a professor of biology, is also the director of the greenhouse. He has been working with the greenhouse since it was first built. Feinstein has helped create many opportunities for students in the greenhouse. Not only can you do work and study in the greenhouse, but there are many learning experiences. Feinstein said, "We have a learning experience called RLE this fall, where we will do research on plants." There is a room dedicated to learning and doing research. Students from many science classes get the opportunity to get their hands dirty. They get to research different types of plants and learn how to collect data. Pelletier has also been working to get education majors to be a part of the greenhouse. She hopes that by giving them a chance to learn about plants they can teach their students about plants. Pelletier said everyone needs to know how to grow food and the importance of growing food. Many children don't know enough about growing food.
Not only does the greenhouse bring great things to the community, it also will benefit all students. No matter what your major is, you can be a part of the greenhouse club. Even if your major does not have to do with plants, it can benefit you. You can be a part of the club just to learn how to grow a garden and more. Feinstein said, "Anyone can be a part of the greenhouse. We offer work study and more. So, if you are interested, we could use the help."
The greenhouse is like a jungle when things are fully grown, and it is very warm. It is a wonderful way to forget about all the snow outside. With the many opportunities the greenhouse brings, it is a great means to get involved in growing plants. You do not have to be part of the greenhouse club to enjoy what comes out of it. The club is working toward building a stronger community.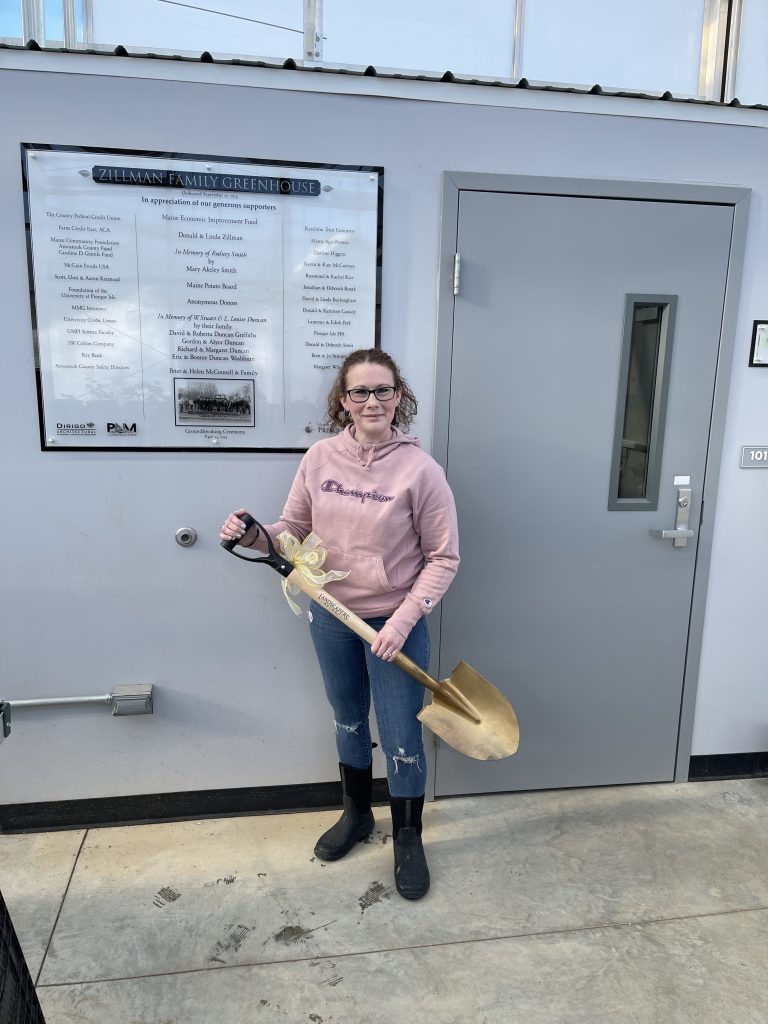 Lindsay Pelletier holding the shovel that started it all. Now plants bring opportunities to not only UMPI, but also the Presque Isle community.