And since those days, they have only grown closer. "We've grown up together. We have been through college, and we've really been able to see each other grow in many ways. It feels right to be together and work together to help each other achieve our goals," Caryn said. 
       A one-of-a-kind girl to Justin deserved a one-of-a-kind ring. "I found a ring online I really liked and knew that it was the one I wanted to give her. I went to Dave's Jewelers' website, and it said they had just one of that ring in stock out of the six or seven Dave's Jewelers located near me," Justin said. The engagement ring he chose for Caryn is from the Forevermark Black Label collection with an oval cut to the center diamond.  He knew his chances were low to get that exact ring. "I wasn't expecting them to have it on the day I went. I went to a random Dave's Jewelers.  And it just happened to be the one store carrying the one ring I had wanted! It was a sign. Like it was meant to be. So, I ended up getting it then," Justin said.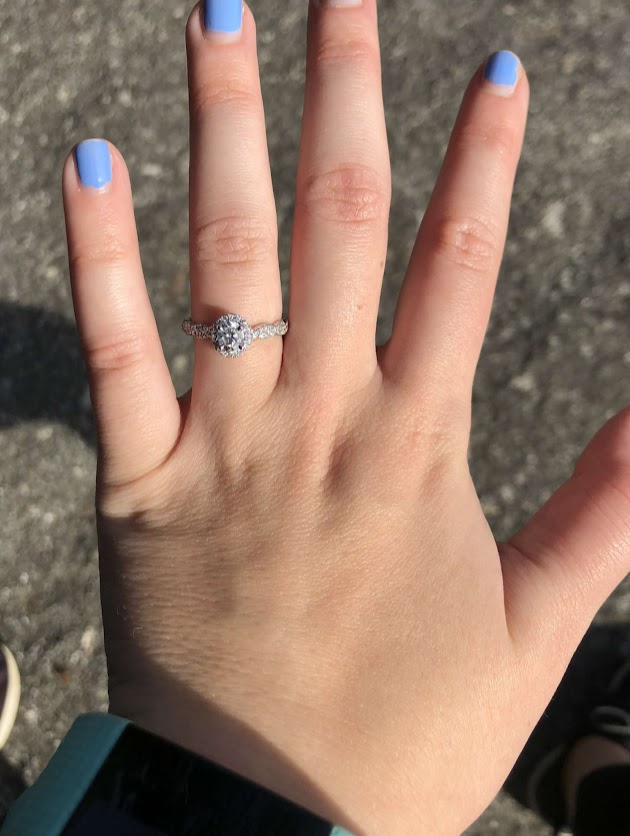 Caryn has enriched Justin's life.  "Dating Caryn has made my life better. She is a very bubbly, fun person, and we have many great memories together. She is special to me because she has a heart of gold," Justin said.  And Justin has enriched Caryn's life. "He's creative, smart, funny, motivated and dedicated. When he puts his mind to something, he follows through with it," Caryn said. Out of four billion people on the planet, Justin and Caryn have found each other. It was meant to be. And they wouldn't have it any other way.