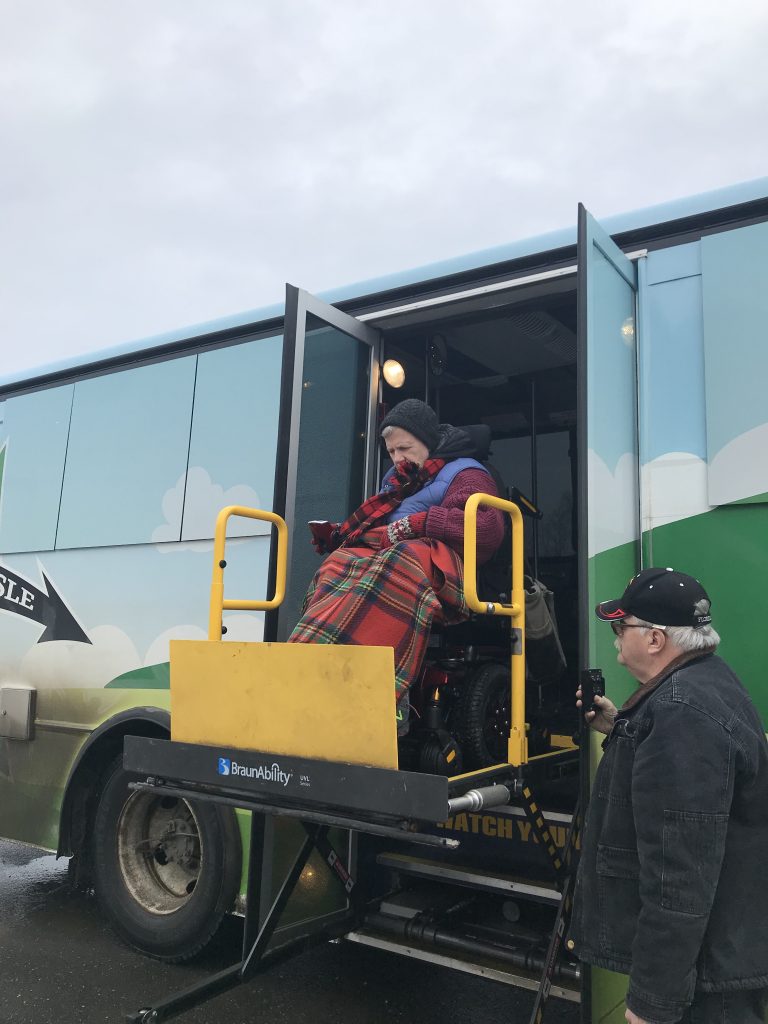 The city of Presque Isle has a new form of transportation available to its residents. The Presque Isle Loop, an innovative metro-style bus, is now traveling through the city, making it the first fixed bus route in Presque Isle. The Loop has 16 stops through town and is affordable for anyone looking for a ride. The bus, which started on Oct. 15, was formed by the Going Places Network in collaboration between multiple agencies and organizations throughout Aroostook County.
The bus is operated by the Aroostook Regional Transportation System and it seats up to 36 passengers. The bus is also accessible to all who may have a disability. The bus features free Wi-Fi, air conditioning and spacious seats.
The bus will give access to a variety of Presque Isle residents who may need transportation. From college students to the elderly, the bus will give new opportunities to people who did not have it before. Many students at UMPI or NMCC do not have cars or a means of transportation. The Presque Loop is a new resource for them. Older citizens of the city who can not drive on their own will now be able to travel. People who work around town will now be able to use the bus. If people without a car would like to make a trip to Walmart, they can now do that through the bus.
Don Sawyer, a bus driver for the Loop, spoke about its recent success. "On a good day, we get about 25 people," Sawyer said. "I used to drive buses for the schools. This is a lot better than having 50 screaming kids behind you," Sawyer laughed. The most popular stop for the Loop is Walmart. He also mentioned that a stop at Walmart gives people more than an hour to shop before the bus comes back, which is plenty of time to get what you need.
The first two weeks of the Presque Isle Loop in October were free to all riders. Since then, ticket prices are $1.75 for one way and $3.50 for a roundtrip. Children under the age of 5 ride the bus for free with a parent or guardian. Discounted fares are available to people ages 18 years and under or 60 years and older. Military Veterans and their spouses with ID will be offered a discount as well as people with mobility disabilities. Passengers will also have the option to purchase a GoPass with unlimited rides. This pass can either consist of a week for $18 or a month for $72.
The start of the Presque Isle Loop begins at UMPI by the Campus Center circle, then heading to the Plaza on Main Street near Big Cheese Pizza. The next stops are at Academy Street, the Presque Isle Nursing Home and Griffin Street. The bus makes several more stops through town including the Aroostook Centre Mall, Walmart, the Micmac Health Center, NMCC and more. On average, the bus stops at each location every 70 minutes.
UMPI professor Jacqui Lowman, a wheelchair user, had no trouble getting on the bus. "I thought it was amazing. I was so impressed. I thought the bus would be nice, but I had no idea that is would be that nice. It was very warm, and it had a great view out the window," Lowman said. "There are many people who need to go to appointments or need to get to work and they do not have a vehicle. We've needed this for a long time. It is very affordable, and I think it is just going to keep building."
The Presque Isle Loop has been a success since its opening in October and it is bound to continue its growth. This bus allows the city of Presque Isle to become more innovative and helpful to its citizens. It gives its community members a means of transportation in a city that has never had it before. The bus is another example of the steps Presque Isle is taking to improve the lives of its citizens. When people ride the Loop, they are not only helping themselves, but also their city. The Loop gives citizens a safe and convenient ride across town or wherever they may need to go in the future.