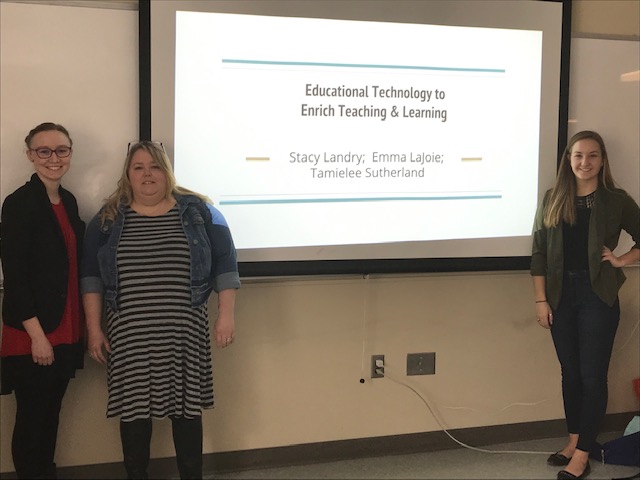 Education students Stacy Landy, Emma Lajoie and Tamielee Sutherland presented their work on Educational Technology to Enrich Teaching and Learning during UMPI's 18th annual University Day. Throughout the presentation, the women discussed the importance of technology in the classroom and how it affects the students, teachers and parents.
"Collaboration, Communication, Critical Thinking and Creativity all come together in the classroom when students use technology. It is important that these students create things for a purpose that will help them in the long run," Tamielee Sutherland said.
All students, no matter the age, learn differently, whether that is visually, orally or anything else. It is important that teachers recognize this and cater to their students and how they learn. The presenters spent time talking about different online tools that help students learn and make it easier for the teachers as they prepare for class.
Stacy Landry introduced the first tool, called Nearpod. This easy-to-use site allows teachers to create a lesson plan that adds a personal feel to the lesson. It gives students the chance to communicate with other schools. Students can connect to the site from anywhere if they are not able to do the work in class. Nearpod allows teachers to stay connected with their students outside of the classroom.
Emma Lajoie described the next tool: Canva. "The site allows students and teachers to be creative with a visual source. It is also good for staying connected with students and their parents," Lajoie said. Canva is a good source to use when the classroom is filled with students who are visual learners.
The last source was Thinglink, a tool used by teachers that can be very customizable. This source is very useful to teachers who like using pictures or videos with their students. Teachers can add music, websites and more to their lesson plans without ever leaving the presentation. "We are able to put fun videos in the lessons. It gives the students a chance to have fun through music or videos," Tamielee Sutherland said.
In the classroom, it is important to use as many technological advances as a teacher can. It will not only help the students learn, but it allows teachers to explore their options.