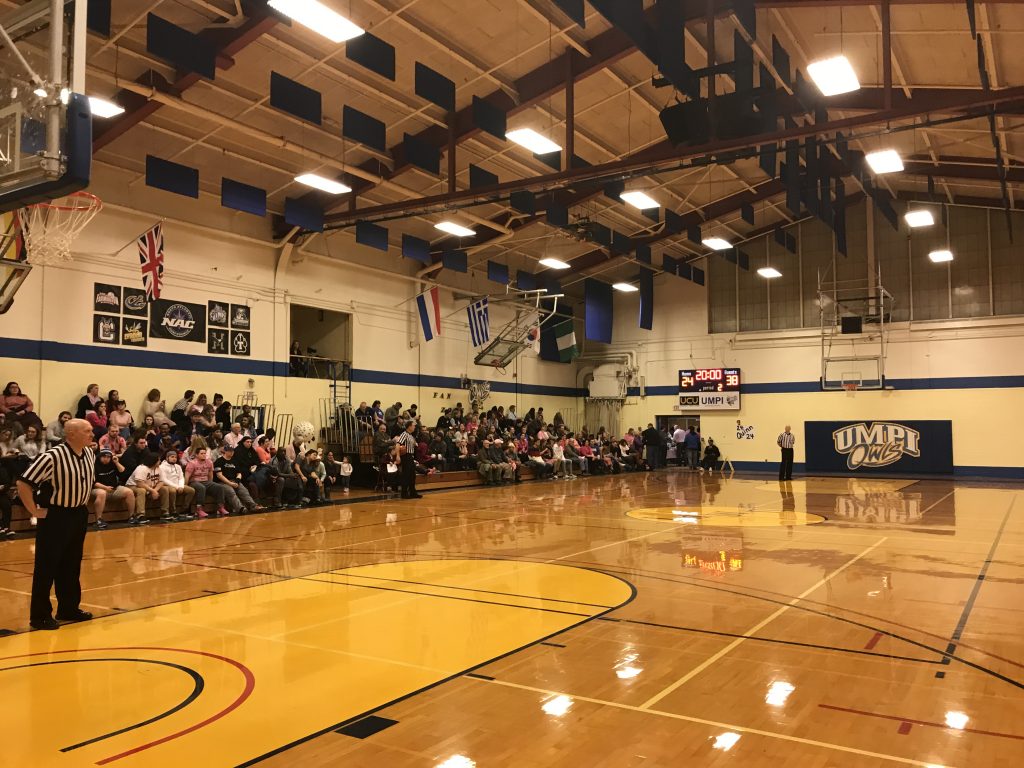 The University of Maine at Presque Isle's 8th Annual Think Pink basketball games drew a huge crowd on Tuesday, Feb. 12 in the Wieden Gymnasium. Students, staff, faculty, community members and more attended the men's and women's basketball games held against UMPI rival, the University of Maine at Fort Kent. Spectators and players wore shades of pink to represent patients and survivors who were or still are battling cancer. The money raised during Think Pink games is donated to the American Cancer Society
The UMPI Owl Relay for Life Team hosts the games annually.  Attendees could support a good cause all by watching basketball, eating food and spending time with family and friends. There were many opportunities for spectators to contribute to the ACS. A variety of food, such as walking tacos, cupcakes and more were on sale Tuesday night.
"The amount of people there made the atmosphere of the game so much more exciting to be at. I really like the idea of the Think Pink games because breast cancer runs in my family and currently my grandma has breast cancer.  So just knowing that people donated so much money for the research meant a lot to me," sophomore Alexis Alcott said.
People also brought their loose change to "feed the jug." Raffle tickets and 50/50 tickets were also on sale during the games. Prizes were given away during halftime of the women's game.  Faculty members won baskets and a homemade UMPI sign.  The winner of the 50/50 raffle was UMPI's own director of community and media relations, Rachel Rice.  She in turn donated her winnings to the American Cancer Society.
"I think the idea of having the Think Pink games is a good idea because we do have breast cancer survivors that are affiliated with UMPI somehow.  And I think that is something that we can honor them with by raising awareness. Having something like this also gets the students, staff and community to team together and support those who have been affected," sophomore Mackenzie Lee said.
At the end of the night, faculty and staff announced that the games raised over $500 in proceeds, which will all be donated to the ACS. Although both men's and women's teams lost, much more was won that night.