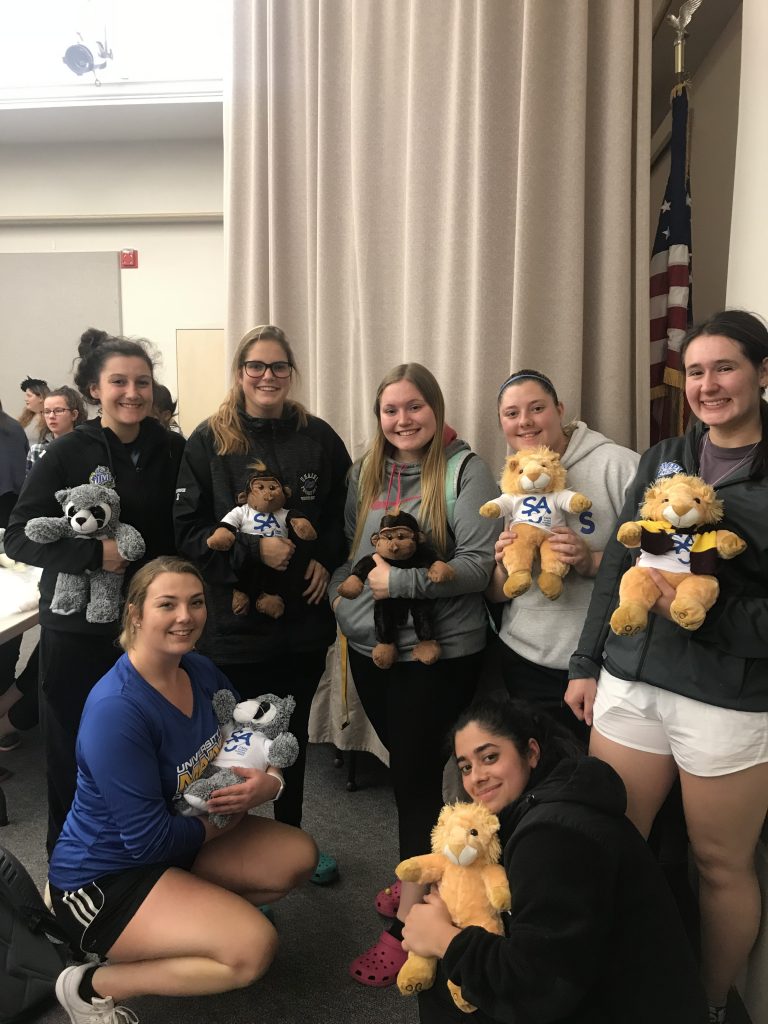 On Halloween night, UMPI students were treated to monster stuffing in the MPR of the Campus Center. Students began to arrive around 7 p.m., looking to get first pick of the unstuffed animals. Once lines opened at 7:30 p.m., students rushed in, grabbed monsters and started filing them with stuffing. Students were also got mini UMPI SAO T-shirts for their monsters to wear. The event, run by the Student Activities Office, was first come, first served. Students had the option to stuff a raccoon, a badger, a giraffe, a monkey or a snake.
"UMPI's SAO events are always something I look forward to. The stuff-a-monster programs are always so much fun," UMPI senior Darrean Thornton said. "Violet does a great job organizing all of these events. I know a lot of the students appreciate SAO and all they do for us on campus."
There are stuff-a-monster events for both students and community members throughout each semester. A stuff-a-monster event was run earlier in the semester, but for community members only. Families from the community bring their children to UMPI for a chance to stuff their own monster and take it home. UMPI's Student Activities Office has run stuff-a-monster events for a couple of years now. They have been continually a hit between the students and community members.
"Every year UMPI puts on one of these events. I always enjoy walking in a stuff-a-monster. This one was even more special because it is on Halloween," UMPI junior Alexis Levesque said. "It is always nice to know that there are things on campus to do for students who live in the dorms. Coming to stuff-a-monster is a great way for students to leave their rooms and socialize."
This stuff-a-monster event was so popular among the students, that SAO ran out of monsters to stuff. Although those 90 college students who attended the event didn't leave with a bag of candy in their hands, they left with a spooky monster instead.