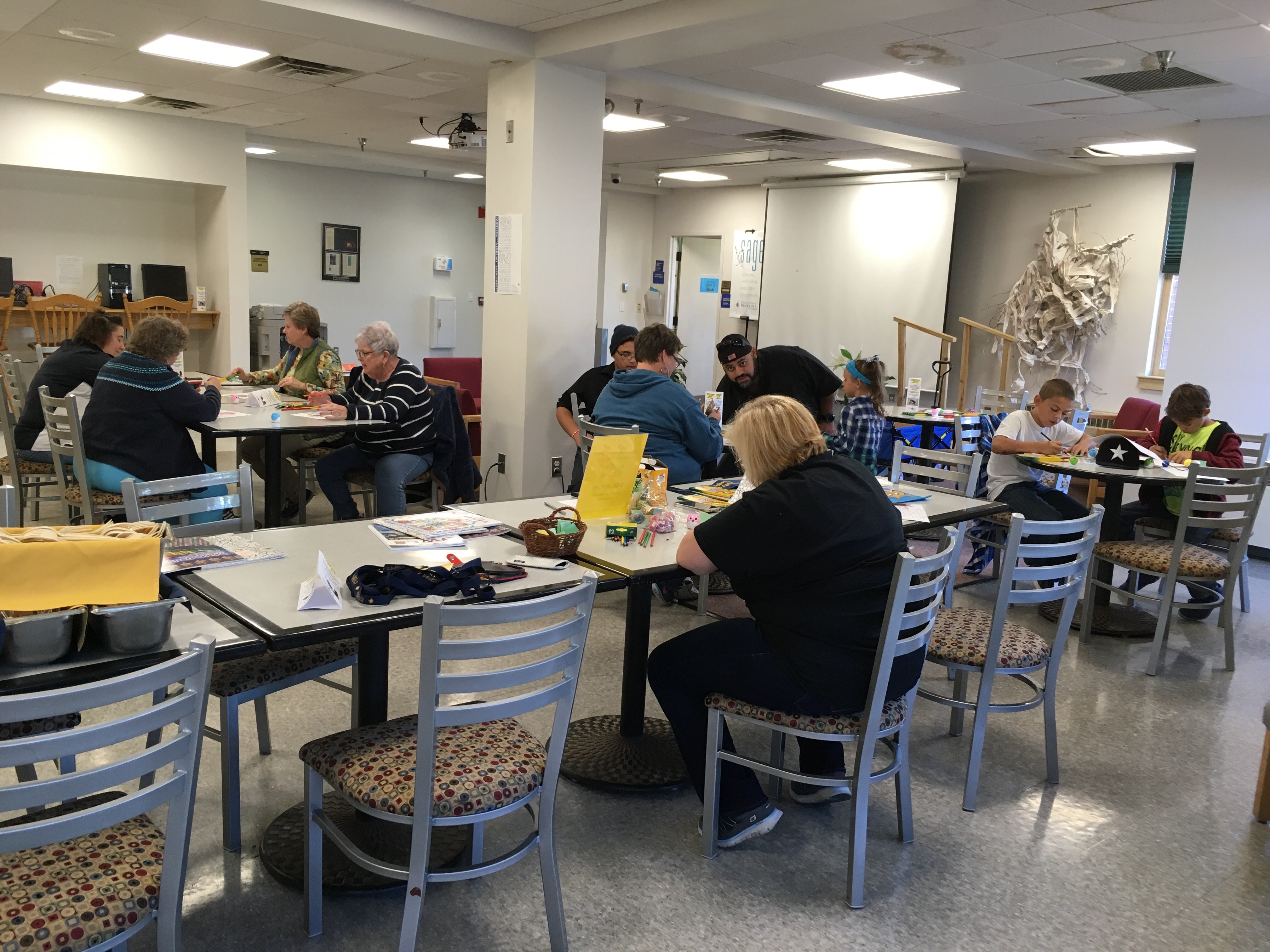 The Coloring for All Ages event, sponsored by the UMPI president's office, took place in the Owl's Nest in the Campus Center on Friday, Oct. 6. The event, one of the first to take place during the Homecoming Friends and Family Weekend, allowed people of all ages to color using the colored pencils and coloring pages provided. Soothing music played, and participants had a chance to win prizes in the form of coloring books and colored pencils.
     Approximately 15 individuals, including several employees from UMPI's student financial services department, showed up to take the opportunity to slow down, decompress and color with other people in a calm, relaxed setting. One of those to attend, UMPI student Jon-Paul Rodriguez, had a great time. Rodriguez said, "It was relaxing. My family enjoyed it quite a bit. My kids really liked their prizes, and they've been coloring away ever since. They won coloring books and they also won coloring pencils."
     Lisa Pucci, administrative specialist in the office of the president, was instrumental in organizing the event. Pucci said, "Homecoming Coloring for All Ages was a great way to kick off Homecoming Weekend as well as a great way to decompress at the end of a hectic week." Pucci said that she personally found coloring to be therapeutic and cited studies showing that coloring stimulates many areas of the brain and provides a sense of relaxation.
     A similar coloring event, sponsored by Bethany Zell and Cary Medical Center as part of its Healthy You wellness program, occurred at UMPI during the 2016 Homecoming festivities. When Cary was not able to sponsor the event again this year, Pucci took initiative and made sure that Coloring for All Ages took place nonetheless. Pucci said, "I approached President Rice to see if our office could continue and sponsor it, and he wholeheartedly agreed. We hope to make this a regular part of our future Homecoming weekends."
     Thanks to Pucci and the office of the president, Homecoming Coloring for All Ages was a success that put smiles on the faces of the people who attended. Look for it at next year's Homecoming festivities.