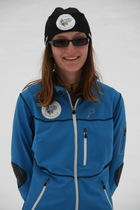 This month's Student Spotlight features UMPI student Chenoa Jackson. Chenoa is a social work major from Wilton, Maine. This is her third year at UMPI. Chenoa is on the UMPI Cross-Country Team and the Track and Field Team. She is the secretary of the Pageturners Book Club and the secretary of Campus Crusade for Christ.
     Chenoa is an active volunteer.  She attended UMPI's Alternative Spring Break last school year.  She assists with middle-school races and the Labor Day race in Caribou.  She works the Campus Crusade snack table during finals week.  She recently volunteered for the second annual 9/11 service project, Game Night at the Caribou Veterans Home.  She intends to attend the second annual UMPI Alternative Spring Break (a free event) in March of 2018. Chenoa's favorite memories of last year's Alternative Spring Break are hiking through the woods trying to find the ghost house and team-building while painting.
     Chenoa thinks that UMPI is a great place to be a student and get involved.  She said, "It is not too busy, but still has exciting things to do in your spare time."
     Furthermore, Chenoa is a student worker in the university library (CIL). Library Specialist Michelle Greene said of Chenoa, "She always has a smile on her face. I enjoy having her. Other staff and students enjoy being around her. She is supportive of the campus, community, athletic teams and clubs she is involved in. Chenoa is an asset to the campus."
     Asked why she volunteers and why she thinks it is important for others to volunteer, Chenoa said, "I do it because there is no greater feeling than knowing that I helped someone out. It is a great experience to get out in the community and learn more about the community you're in."
     UMPI is lucky indeed to have Chenoa Jackson as a student here.  The AmeriCorner commends her for her achievements and for her commitment to volunteerism.