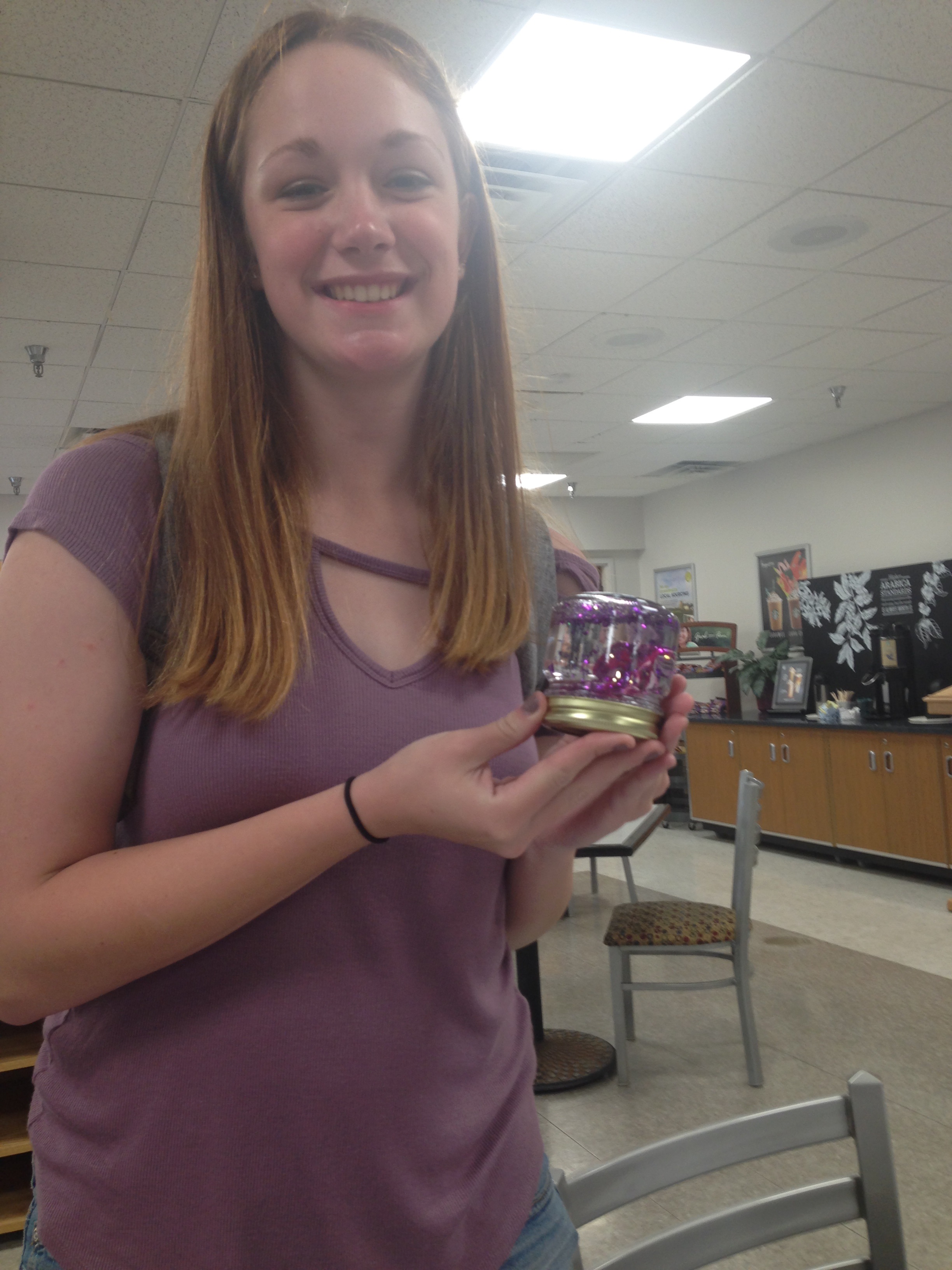 How would you celebrate the film "Baby Driver"?  The University of Maine at Presque Isle's Student Activities Office thought that a perfect way was to teach people to make a car glitter globe.  A number of people agreed.  On Monday, Sept. 18, 15-20 individuals came to the Owl's Nest to make glitter globes and get in the mood for the film, shown Sept. 22.
     Violet Washburn, the coordinator for student and campus engagement here at UMPI, explained the idea behind the event.   "The idea of making snow globes in some fashion (glitter globes) was on our idea board in the student activities office for quite some time now."  The timing seemed right.  "The goal was to tie the movie into a fun event," Washburn said.  The SAO office was able to create the tie-in by having mini toy cars in the glitter globes
     Margaret Dickinson, a freshman here at UMPI, attended the event. For her it was an easy choice.  "I really like arts and crafts and glitter is amazing!"  She went with a few of her friends.
     Bethany MacPherson, a sophomore here and current work study student in the UMPI student activities office, was at the event, helping event goers create their glitter globes.  MacPherson, who runs SAO's Instagram account, finds her work a great fit.  "As an art major, I really wanted to get the experience of social media and event planning under my belt.  I love working in the student activities office."
     MacPherson and Washburn both noted that making these glitter globes was really easy.  The process took most participants 5-10 minutes. If you were unable to attend this fun event, you can make your own car glitter globe jar with these instructions.
(Time needed: approximately 5-10 minutes)
Supplies: 1 Mason Jar with Top
1 Miniature Toy Car
1 Tablespoon of Glycerine Water (enough to fill the mason jar)
Glitter (amount varies depending on how much glitter you want to put in)
Hot Glue Gun .
Step 1: Unscrew the top of the mason jar and put the center metal top aside. Fill the mason jar with water and add 1 tablespoon of Glycerine to the water.
Step 2: Attach the toy car to the lid of the mason jar by hot gluing it. Make sure that the car is attached to the bottom of the lid so that the car is inside of the mason jar.
Step 3: Add glitter to the mason jar filled with water and Glycerine. Slowly submerge the toy car into the mason jar.
Step 4: Firmly screw on the lid of the mason jar and hot glue the space between the lid and jar to secure it.
Step 5: Wait until the hot glue has cooled on your car glitter globe jar and then shake it and enjoy!
     For more information on upcoming SAO events, be sure to check out the UMPI Student Activities Office Facebook page, Instagram account and the Weekly T&P.