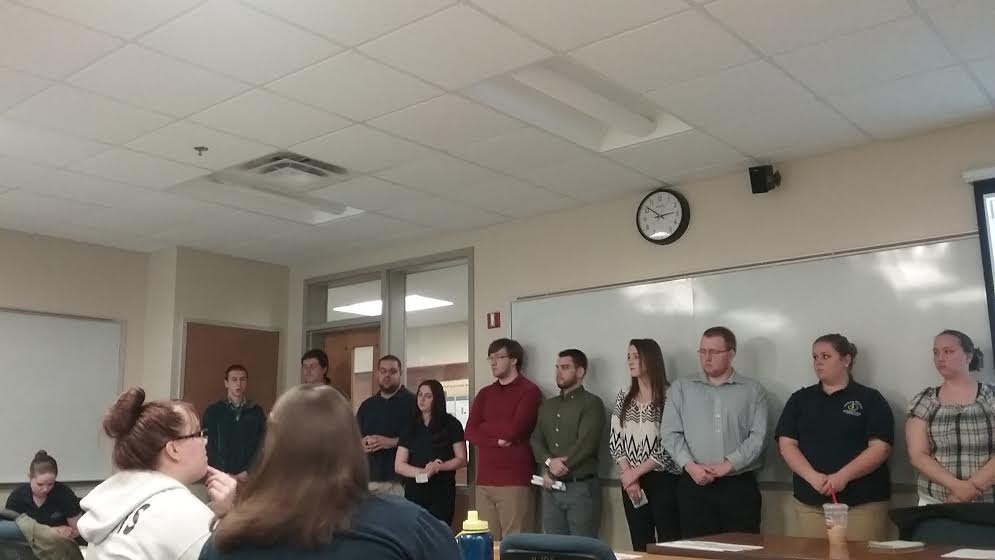 It's never an easy topic, but domestic violence is a real issue happening in many communities.. But there are ways to help the victims of domestic violence, and on April 12, 2017, at UMPI's University Day, a group of students in Lisa Leduc's criminal justice class talked about how people can do just that.
    The class was one that focused on service learning, and this year, the students partnered with the Hope and Justice Project to combat domestic violence. They focused mainly on what is called SAFE Homes Aroostook, which is a walk that is held to benefit victims of domestic violence as well as to bring awareness to the issue. "It is mainly run by the Hope and Justice Project," said Courtney Cote, one of the student presenters.
    The students also talked a good deal about domestic violence and how it really impacts the victims and the community. They talked about the importance of law enforcement receiving proper training in dealing with these issues.
    The students also talked about how people can help victims of domestic victims. One of the students, Valentina Annunziata, explained that it's important to avoid telling the victim what to do. It's better to just be there for them and be a support. "Try to, you know, just talk with them and listen," Annunziata said. She also mentioned that people can suggest the Hope and Justice Project as a place for people to turn to if they need help in dealing with domestic violence.
    The students also talked about their fundraising efforts to help with the current cause. They had bake sales and were even planning a car wash. The community had been very generous and supportive. "We approached Dead River and they said we could use their lot free of charge," said Jordon Shepherd, when talking about working to set up a car wash.
    The students hoped that the SAFE Homes Aroostook walk, coming up on May 7, will  help victims as well as for the community and that it will bring awareness to a serious issue. The community is welcomed and encouraged to join in the cause.