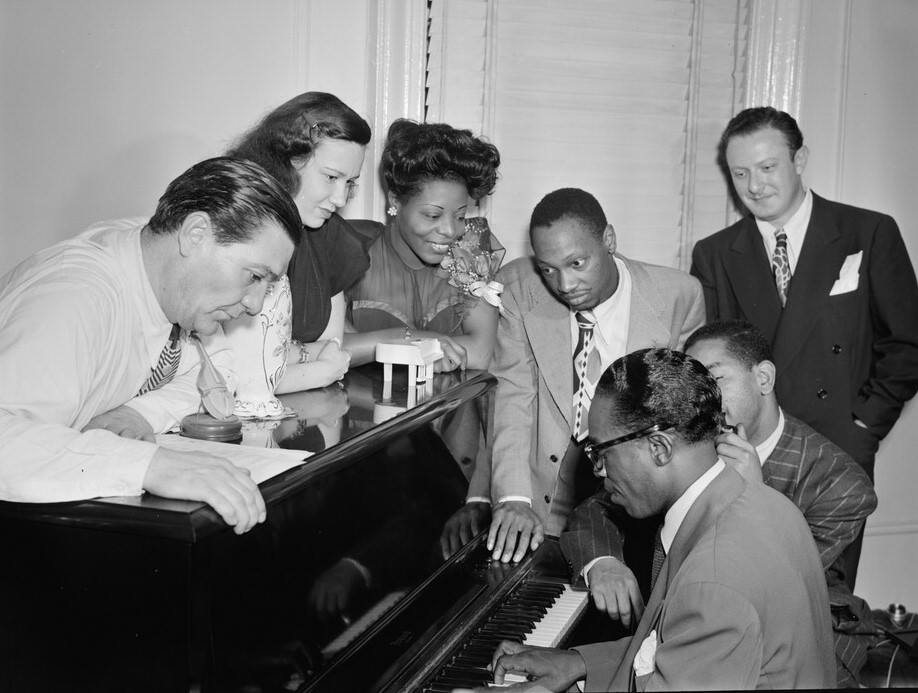 Here at UMPI, students come from many different backgrounds.  But they don't always get to learn about one another's experiences.  UMPI senior English majors Lassana and Lossene Dorleh wanted to change that.  On Tuesday, Feb. 14, they brought their heritage to the stage at Wieden Auditorium.  They took audience members on a journey to "The Cotton Club" and the Harlem Renaissance.
Lassana and Lossene Dorleh began their show with a history lesson for Black History Month.  The Harlem Renaissance took place in Harlem, N.Y.  It lasted from the 1920s to the mid-1930s.  During that time, numerous African-Americans moved from the South to northern cities.  They came for better jobs.  In Harlem, African-American writers, artists and musicians found their voice.  They helped create a vital movement for their culture.
The Cotton Club was a famous nightclub in New York City.  It became an icon of the Harlem Renaissance.  The club had a "whites-only" rule.  African-American musicians had to enter through a back door.  But those musicians performed to crowds that loved their music.  They created a sound that became jazz music.  Lossene Dorleh was excited to share jazz music with audience members.
"We want people to be inspired to look at things that have nothing to do with them or even affect them," Lossene Dorleh said.  "But at the same time it has affected so many of their favorite singers and songwriters and poets who maybe aren't black."
"The Cotton Club" show featured many musical guests.  UMPI student Adrien Tourtelotte performed two jazz standards.  He first sang Duke Ellington's "Fly Me to the Moon."  Later, he sang Dean Martin's "Ain't That a Kick in the Head."
Members of the Presque Isle band Almost Islanders also performed.  Brenden Goulet and Troy Nadeau performed jazz scats.  Scatting is a type of vocal improvisation.  Scatters use no words or lyrics.  Instead, they make up rhythms and sounds as they go.  During the Harlem Renaissance, scatting became popular in jazz music.
Due to technical difficulties, the performers could not use background music as they had planned.  The singers and scatters performed a cappella.  Lassana Dorleh said that at first he felt disappointed.  He and Lossene had planned a Charleston dance routine.  But they still got to show audience members dance moves.  Lossene Dorleh also read the poem "Some Days" by James Baldwin.  Both brothers were glad the show went on despite setbacks.
"I think the music not working kind of helped the show even though I was disappointed," Lassana Dorleh said.  "It made the end result a little better because we got to do something we worked so hard on."
Audience members gave "The Cotton Club" great reviews.  Joshua Williams is an UMPI business management and leadership major.  He enjoyed all the musical performances.
"It gave a good understanding of what the culture was like in the African-American community at that time," Williams said.
Tiffany Smith is a freshman journalism major.  She also attended the show.  She most enjoyed the scatting.
"It was really creative and I like how they just did it on the go," Smith said.  "They really immersed you in the time period."
Putting on "The Cotton Club" meant a lot to Lassana and Lossene Dorleh.  The Harlem Renaissance inspires both of them as writers and performers.  In December, they will graduate from UMPI.  They plan to pursue playwriting in New York.  "The Cotton Club" was a chance for them to create more diversity on campus.  But more than that, they wanted to share their own culture with the campus community.
"It's hard to talk for someone else, no matter how much I research someone else's culture or talk to other people about their culture," Lassana Dorleh said.  "So my brother and I wanted to show a bit of our culture, our inspirations and how it is to be African-American."
"The Cotton Club" was a great time for everyone involved.  Audience members did not just learn about jazz and African-American artists.  They also learned that culture doesn't just exist during a special month or day.  Culture is there for everyone to experience and enjoy.  With open minds, students and community members can meet new people.  They can celebrate the differences that unite us all.