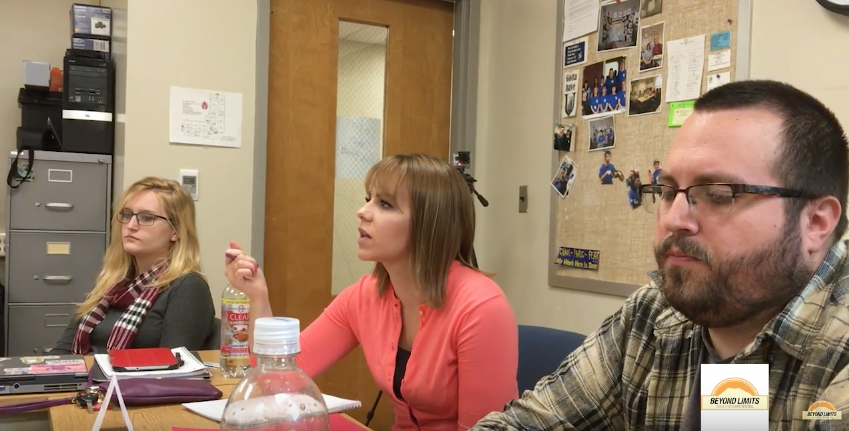 Throughout the fall semester, UMPI students have put in countless hours helping local nonprofit BEYOND LIMITS: Awaken Your Potential with its Appalachian Trail Adventure.
"I've reached out to a lot of people," UMPI student Brandy Smith said. "These people were going to be involved with BEYOND LIMITS and lead us to others who want to be involved."

In March of next year, volunteers with BEYOND LIMITS will be thru-hiking the Appalachian Trail. It's been over a year in the making, and this semester's goal was to bring in volunteers and spread awareness of the adventure.
Students were tasked with creating marketing campaigns and reaching out to others to build a community for BEYOND LIMITS.
"I've gained a lot of communication skills," Smith said. "I feel more comfortable talking with people I'm not familiar with."
The power of the Internet made it possible for students to reach out and touch someone. Blogs, social media posts and Google Hangouts were just a few ways students got the word out about BEYOND LIMITS.
"I definitely picked up a lot of stuff—better thinking out of the box and thinking on the spot skills—I found myself having to do that a lot."
The fruit of their labor has resulted in BEYOND LIMITS' first few volunteers for the trail. The organization's Web presence has increased via social media, and all the work done by students has set BEYOND LIMITS up for future adventures.
"I think that I and many of the people in my class have gotten the word out there about BEYOND LIMITS and that will lead to others who want to be involved, and I think the adventure will go smoothly."
Now that the semester is over there's still work to be done. Many of the students who've been involved with BEYOND LIMITS over the past year will continue their work next spring, summer and fall.
BEYOND LIMITS believes that challenge is an Opportunity, that it's all about the Journey and that Nothing is impossible.
If you would like to know more about BEYOND LIMITS v