At the new location, Annie's Bake Shoppe plans to provide restaurant services. Haley Timmins, Wolf's assistant, said they will expand their menu. She insisted on keeping secret the names of the new meals on this menu. She shared, however, that they will be personal creations from the shoppe. The menu will include many high carb options, such as sandwiches, pastas and meats. "Gotta keep everyone insulated for the winter," Timmins explained.
     Timmins described what she most looks forward to about the new building. "Definitely the bigger space, for more opportunities with custom orders and events," she said. The new location may provide a larger customer base. Sledders and truckers frequently pass by the location. In fact, the snowmobile trails go right behind the building. The bakery can become the glue of Ashland. It may also attract more people from the outside.
     The bakery also intends to eventually increase its open hours at the new building. In addition, they want to convert a section of the restaurant to a pub. The bakery will keep its bakery section, with its lovely displays and baked goods. And, of course, Annie's Bake Shoppe will keep its name. 
     Natalie Smith, an Ashland native, is a faithful customer of Annie's Bake Shoppe. She has frequented the bakery since it first opened. She likes many things about the business. "Number one: Their food is marvelous," she said. The owner and employees, she said, are friendly and the building is always clean and neat. All the sweets they produce, she loves.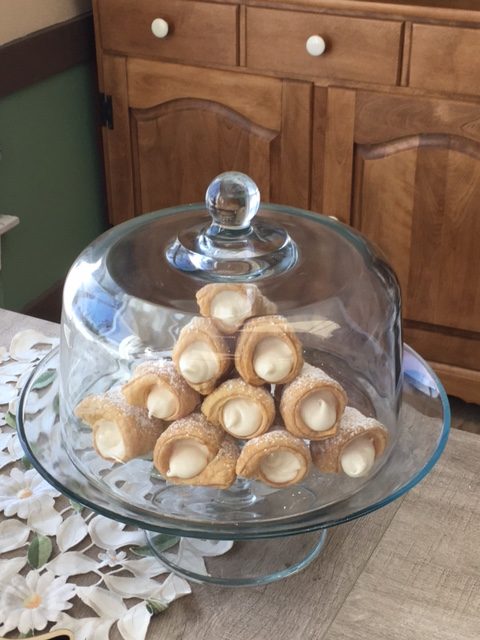 Smith shared an extra affection for the quiches. Wolf makes the quiches with a soft, flavorful egg mixture and uniquely flaky crust. 
     Annie's Bake Shoppe's new location is a little farther from Smith's home. Though it will be less convenient for her, she said she will stay a loyal customer. "As long as it's them and their food is as good as it is," she said.