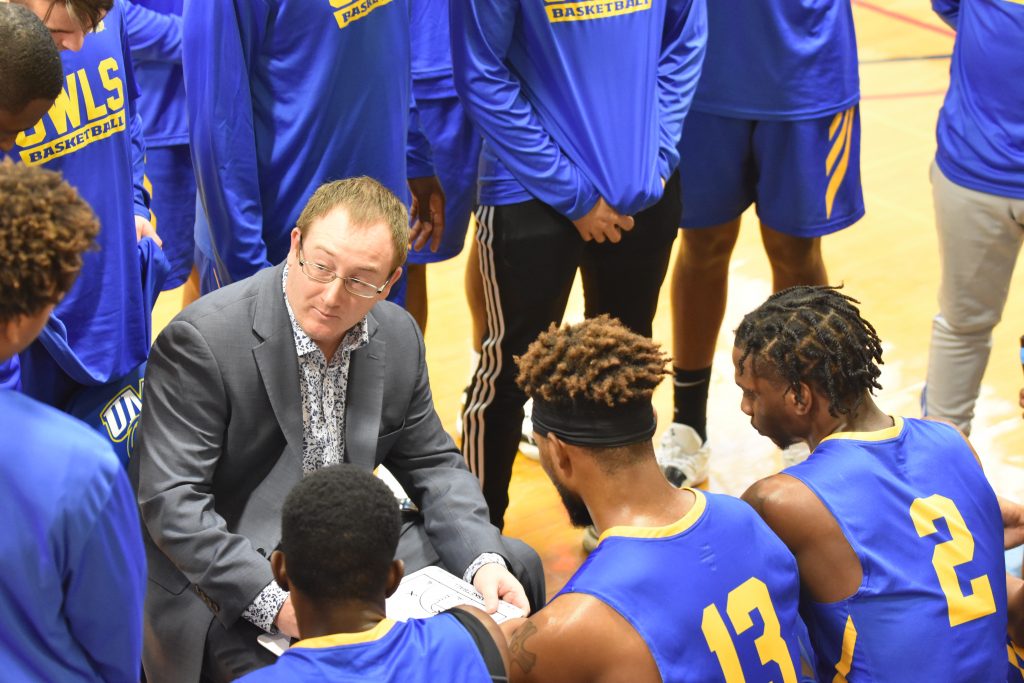 On Feb. 16, the University of Maine at Presque Isle played SUNY Canton in the North Atlantic Conference quarterfinal playoff game. It was a back-and-forth game with many turning points. The Owls showed that they have a bright future because of their continuity and star power. They will be a force to be reckoned with for years to come in the NAC. In the game, the Owls tried to fly with their speed, while the Roos punched back with their size.
This was UMPI's first season playing in the NAC. The higher stakes lead to more competition and motivation. "In the conference we're in now, if you win you get to go to the NCAA tournament," UMPI's Coach Dan Kane said.  Freshman guard Griffin Guerette said, "The NAC Tournament is definitely special, and I feel like this outweighs the importance of any other tournament game I've ever played in."
UMPI's strength all season was the shooting and driving ability of its guards Guerette and Shyquinn Dix. Guerette recently won rookie of the year for the NAC. Dix was named to the all-conference first team. The team is a list of five players from the NAC who are the most valuable at their position. As a sophomore, he is the youngest member of the all-conference first team. Dix scored 24 points in the game, while Guerette scored 18. Those totals were above their season averages of 17.2 and 12.6 points per game, respectively. They showed ability to perform in the most important game.
The Owls led the game 36-34 at halftime. Guerette scored in double digits in the first half, helping UMPI obtain the lead.  Kane talked about their first half.  "The first half of the game was the best half of defense we played all year." The Roos punched back in the second half, relying on the rebounding of 7 foot 1 inch center Andrew Fitch and 6 foot 6 inch forward Joseph Verner. They combined for 25 rebounds.  The Owls used their speed and ended up outscoring the Roos in fast break points. "We knew that if we got in a set offense, it was going to be three times harder to score knowing there was a seven footer and a six-six guy shadowing the paint. We usually played four guards. We knew playing up and down would put as at an advantage," Guerette said.
The Owls showed their resolve and clawed back into the game when they fell behind by nine to start the second half. Dix made a layup and Guerette made a 3-pointer to cut the lead down. Later, when down 52-45, Deandre Duncombe and Te'Von Hines led a run. Duncombe tied the game at 57 with a 3-pointer. Hines and Duncombe each finished with 8 points. The Roos would eventually win 85-63. That final score doesn't fit with how hard the Owls tried to win the game. "We didn't get to use our speed advantage as much because we got killed on the offensive glass. But overall, we played a great game," Guerette said.
The season may be over. but there is much to be optimistic about. Each of the Owls five starters—K.J. Minter, Duncombe, Wilburn Griffiths, Dix and Guerette–will return next season. Hines, their leading scorer off the bench, will also return. "We're only graduating one senior. We're really optimistic about next year. We have a lot of really good players coming back. This year we had some injuries that set us back. But we're excited about next year and bringing in some new players to strengthen our depth," Kane said. "Our loss definitely put things into reality. It showed me that I only have our years of NCAA eligibility, so I have to make the most of it," Guerette said.
They also talked about some of the lessons and experiences this season.  "For a lot of our players, it was their first year at an NCAA school. I'm hoping what they take away from it is to do everything right all the time, work 100 percent and come in with your mind right so that you're not making mental mistakes," Kane said. "This season has taught me a lot and taught my teammates as well. The playoff experience showed us that we were so close. We had the talent to make it all the way, but we have to work harder and more often this offseason," Guerette said.  UMPI's basketball future burns bright. The men will return next season with more motivation and experience.