My strongest memories of the holiday season are ones of family and traditions.  My brother and I looked forward to Christmas Eve service, held in a gigantic Cathedral-like Congregationalist church built of brick and stone with a steeple more like a Gothic tower than a New England spire, as much for the fact that it signaled presents would soon be opened as it was the one time a year we could hold a lit candle and not get in trouble.  Years later, when I attended that same service, this time as an adult with my own family, it was almost as if I were returned to childhood, to our son Zachary's age, only with a forward-looking memory leap-frogging through time, past high school and college and my first teaching jobs and marriage and a family of my own in which I now became my own parent, nervously allowing Zach to hold and light a candle against the darkness of that great, vaulted ceiling.
Holidays, whether they be defined by Christmas or Ramadan or Chanukah or the Solstice, are shaped by traditions of thankfulness for bounty received as well as the hope for renewal and future comfort and safekeeping.  They are touchstones for who we are while also providing visions of who we might be.
And looking back over the past year, we have much to be thankful for as a university.  New faculty and staff, all of whom are contributing to great academic and co-curricular opportunities.  New programs such as Cybersecurity, to be followed next year by Computer Science and Healthcare Administration.  The amazing generosity of donors and supporters, who made possible the construction and opening of the Zillman Family Greenhouse, which is already seeing the fruits of student research after only a few short months in operation.   And, more than anything, UMPI's students, new and returning, from around the state of Maine, as well as around the country and around the world, who give this institution its purpose and inspiration.
One of my favorite of all UMPI traditions is our participation in the Light Parade—even when it's colder here than at the North Pole (!).  We've had creative and inspirational floats over the years, from elaborate winged owls, to Grinches and sleighs drawn by long-suffering Maxes, but one of my absolute favorites was last night's (Dec. 7) with Hootie's Music Box and a group of remarkable students and faculty and staff—and distinguished retired UMPI registrars!—even including youthful Owlettes on the float among all the lights and presents (Zooey and Naomi!).  My great thanks, once again, to the UMPI Art Club, Studio 923, members who provided the vision and dedication to make the Music Box a reality (and Al Levesque, without whose carpentry skills it wouldn't be possible)!  The Softball, Baseball and Ski teams showed up en masse and synchronized-danced along the entire parade route to everything from the Macarena, to All I Want for Christmas Is You, YMCA, and Rockin' Around the Christmas Tree.  From Presque Isle to California, from Madawaska to Arizona and from Florida to Shawano, Wis., I can think of no more iconic representation of what all of you mean to UMPI and what UMPI means to our greater community.  You can find a video of the UMPI float and all of our students and participants being introduced on Main Street by Shawn Cunningham of WAGM on Facebook at the "UMPI Softball" page.  But here is a photograph, just prior to the start of the parade, of the team, including a towering Hootie!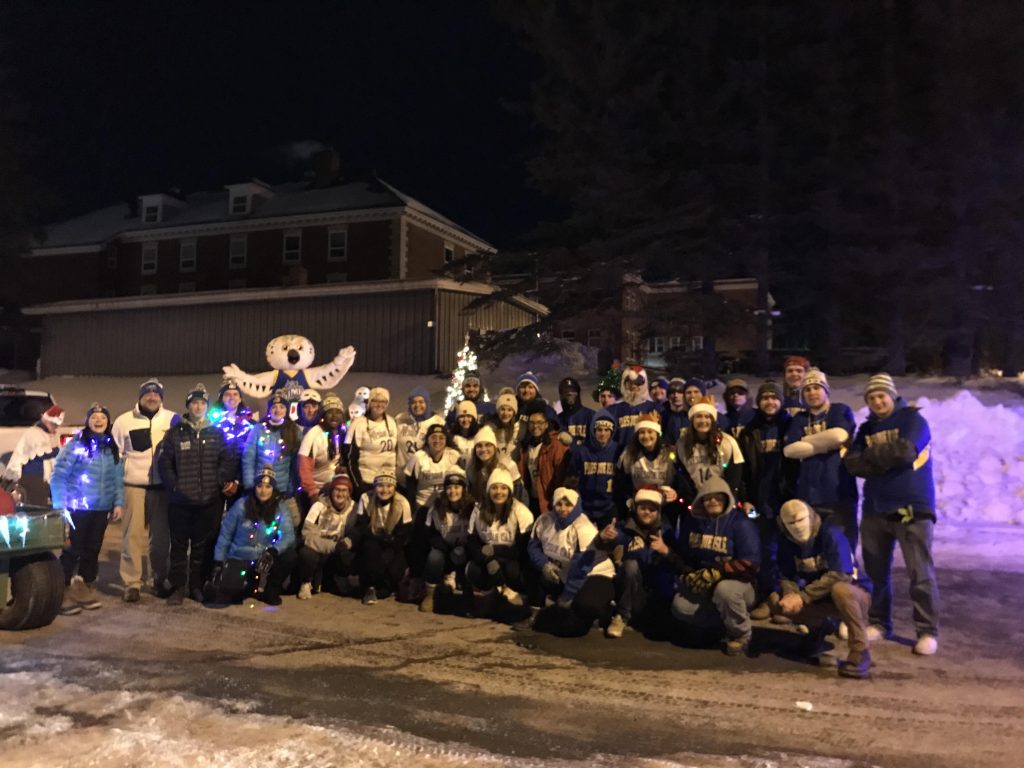 I hope this holiday season affords you some time to reflect upon and rejoice with your families, friends and your traditions, both new and old.   Thank you, everyone, for your commitment to the University of Maine at Presque Isle—for this truly is your university. I look forward to seeing you all again in the new year.