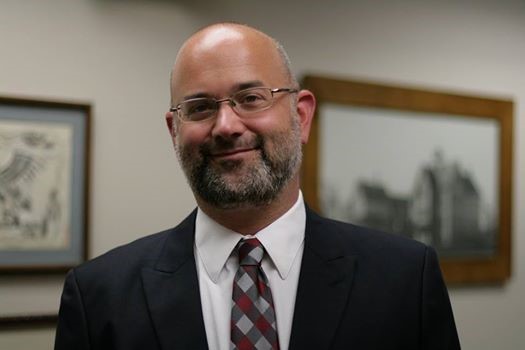 When I was a kid—which was, admittedly, a while ago now—I would always start feeling an anxiety over the end of summer and its carefree, endless afternoons and bike rides and epic AD&D adventures with friends (anyone get that reference?) just before Labor Day.  In fact, somewhat perversely, I would hope for a rainy Labor Day Monday just so I could be stuck inside and watch the Jerry Lewis Telethon for hours on end precisely because it made that final unofficial day of summer last all the longer.  (Thankfully, telethons, like typewriters and rotary phones and Atari gaming consoles, have passed into legend.)
At UMPI, I get anxious for Labor Day now because it usually means that classes (finally) start again for the fall semester.  That's a different kind of anxiety, I realize, but an equally important one.  And that's because, although a lot of really important things happen at UMPI over the summer months (and summer is a truly miraculous time of year in the County), Presque Isle just isn't the same without you all.
For certain, this was a crazy-busy summer here.  It included soccer camps, Upward Bound kids, the Zillman Family Greenhouse under construction (on time!), a whole lot of gardening (did we ever count all the hours it took for William and everyone else to keep the Centennial Garden weeded?), laying down some new asphalt the last couple weeks of August just for fun and endless hours of accreditation paperwork.
But UMPI certainly isn't a college—with a fully functioning Owl's Nest and Starbuck's coffee every morning!—without its students.
And this is a truly great fall.  We're welcoming more new students to campus than we have in years.  We have a more diverse group of new students than ever, with over 28 percent coming from out of state or other countries (including western Massachusetts, hurrah!).  We have more nursing students coming into our shared BSN with UMFK, new Accountant majors, new Ag Science majors and new Cybersecurity students—and those are just our "new" programs.  We have the biggest group of Elementary Education majors in years, one of our largest group of PTA majors, and large cohorts of Social Work, Psychology, Biology and, of course, Business majors.  And that doesn't even count our YourPace students in Business Administration, with new degree-completion programs coming this year in Criminal Justice, Professional Communication, Political Science and History, Psychology and Education.  You literally come from around the world and are located around the world.
Nor should I neglect to thank our new scholar-athletes in Cross County, Volleyball, Soccer, Basketball, Golf, Track and Field and Baseball and Softball.  Many of of these sports have some of the biggest rosters we've seen in years (e.g., Women's Soccer, which I hear is making Coach Marston work hard to keep up with them!).
We adopted our slogan "The Way it Should Be" just over two years ago both because we believed it's what UMPI promises to deliver but also as a challenge to ourselves to keep meeting that promise—and making even better ones.  That's why we ensure *all* can finish their bachelor degrees in four years or less and that you know, from your first day, not just what classes your need to take but when they're offered.
We try to give as many qualified Mainers as we can zero tuition and fees as part of our promise to our State to provide an absolutely affordable outstanding education to our citizens.  At the same time, we provide as many academic scholarships to our out-of-state students as we possibly can and try to meet 100 percent of your financial needs.  This is all while improving our programs and getting better national recognition each and every year for those programs: #14 best of all public colleges in our category in the East according to US News and World Report; top 50 (#26) of all Liberal Arts colleges in the entire country according to Washington Monthly; and one of the 50 best colleges in all of the East (no matter its size) in their "Bang for the Buck" Category—which compares the money you are likely to earn after graduation with the money you pay to go here (Harvard is in that top 50, just by way of comparison!).  And that's all while making sure that our graduates will owe less money upon graduation than any other college in Maine or New England (according to LoanHero.com).
As I said earlier, we constantly try to do better.  That's why I'm promising you now that we'll ensure the classes we schedule are the ones you'll take—and that we won't cancel any of our classes less than 30 days from the start of a semester (barring exceptional situations, of course).  And if you do have a class cancelled, we'll ensure you'll be enrolled in one that counts for equivalent program credit.  I know, both as a teacher and as a student—and as a parent for that matter (!)—how frustrating such last minute changes to a schedule can be.  So that's one more way we're making college The Way it Should Be!
Welcome to our new students—welcome back to our veteran UMPI Owls.  And, from all of us here at UMPI, thank you for making Presque Isle your home!
P.S.  If you ever have any thoughts or suggestions, ideas or complaints, you're always welcome to stop by and see me at my office in Preble Hall or email me at raymond.rice@maine.edu.