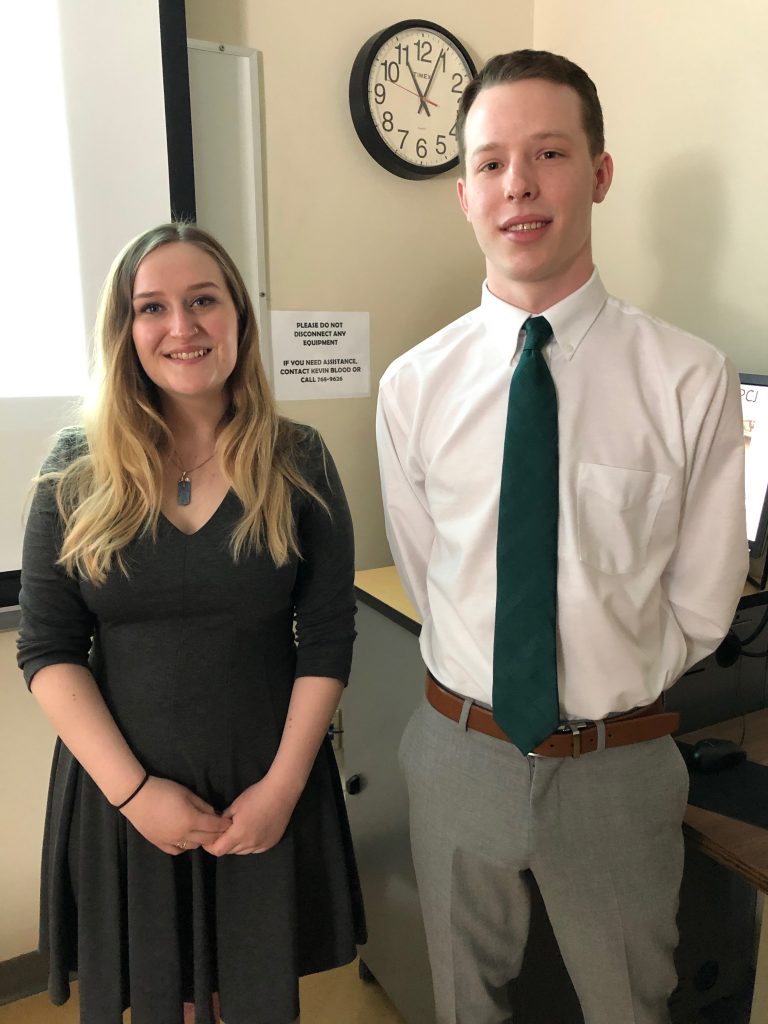 Brandy Smith and Garrett DeLong, seniors at UMPI, presented their journey through professional communication and journalism on University Day. In an hour-long presentation, the two took turns sharing their experience in PCJ classes over the last four years. "These are my two seniors in the program," Dr. Jacqui Lowman, their academic advisor, said when introducing the duo. "They are going to take you on a brief trip down memory lane."
Jumping into the presentation, Smith and DeLong shared how it was their PCJ 180 class that set the foundation for all the PCJ courses to follow. "You learn how to interview, you go out and interview," Smith said. "You also usually pick a beat with this class. I picked art." Smith pointed to a photograph of a past art student, Emma Ruff, whom she interviewed her freshman year. Ruff was a senior when Smith wrote a feature on her.
"In high school I had always liked to write and cover stories. But, I had very little experience doing it," DeLong said. "Coming to this class, we were thrown right into it covering stories for the U Times." DeLong spoke about how the task was daunting at first, but that the class gave him the basic skills needed to succeed in more advanced PCJ classes. DeLong's beat was personal profiles of community members.
The two continued their trip down memory lane, outlining nine more PCJ courses. From jokes about editing to evolving media, their educational journey has been fulfilling. In PCJ 396, the two have been working on a fieldwork practicum. "This class has given us a great opportunity to be leaders," Smith said. "We can come up with our own ideas and pursue them." Smith explains how she thought it was time to update the website for the class after she noticed it was not up to date. "Nobody asked me to do that," she said. "But it counts as my coursework."
The overall growth displayed in this professional presentation was astounding. Smith and DeLong's experience intertwined with memories made for a captivating hour. Their wild ride through PCJ will be one they both remember.