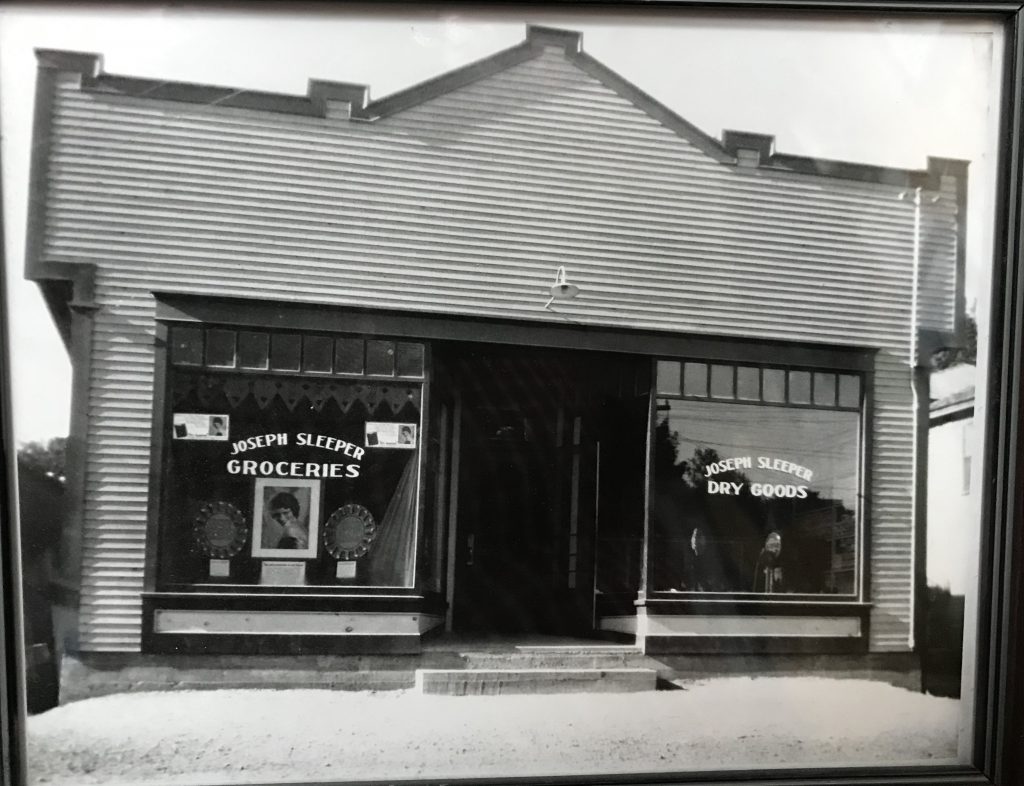 Sea turtles, mighty redwoods and the lucky koi fish.  The list of 100-year-old survivors is not long.  Sleeper's market in Caribou passed the century milestone in 2014.  It now looks very different from the first store, but the service and the values remain.
Rooted firmly on the corner of Route 1 and Lyndon Street, the small store has been a hub for generations.  Caribou looked much different one hundred years ago.
Sleeper's store is located in what was formerly known in Caribou as "the flat."  Many of Caribou's early Catholic citizens lived in the flat.  A Lebanese-born Catholic, Joseph Sleeper chose this area to build his empire.
Quality, value and friendly service is a promise made by the small grocer's welcome sign.  Founded in 1914 by Joseph Sleeper Sr., Sleeper's today serves as a place to buy clothing, produce, canning supplies, groceries, fresh meat and, for some, serves as a place to visit.  It wasn't always the modern grocery store it is now.
Originally a traveling salesman, Joseph traveled the New Sweden and Woodland areas selling fabrics and sewing supplies to farmers.   He sold his goods from a carriage and though he spoke little English, Joseph often made friends with the locals, even spending the night with those who would invite him in.
With his profits, Joseph Sleeper built a store.  The first Sleeper's began by selling barrels of dried goods, fish, fabrics and sewing supplies.  Joseph Sleeper, with the help of his family, established a reputation for quality and trust with the people of Caribou.
This reputation has been handed down three generations, passed on to Joseph's sons, Ike and Joseph Jr., and later to their sons.  The store is currently owned by Joseph's grandsons: David, Mark and Joseph Sleeper the II.  The family has always given priority to customer service.
By going the extra mile for their customers and establishing a friendly relationship, the store's operators have provided service that the people of Caribou can count on.  A current owner of the store, David Sleeper, speaks to this.
"There are some things we can't offer here because we are so small.  We don't have infinite parking or an unlimited inventory.  But we can offer things that the big stores can't match.  We will memorize your name, help you put your groceries on the belt.  We have a crew of five or six guys who will bring your groceries to your car and put them away for you.  People appreciate not having to stand in the cold, they appreciate being treated like friends."  It isn't just braving January winds that makes Sleeper's customer service what it is.
In the midst of the Great Depression, Joseph Sleeper's friends and neighbors needed him more than usual.  People in Caribou were hungry and could not afford to feed their families.  A compassionate man, Joseph gave groceries to customers on credit.
"If a customer came in and their tab was full, Grandpa would give them the groceries they needed," David said.
"He'd just start a new tab for them.  (Grandpa) didn't want anybody to go hungry.  He cared too much while understanding most of these people would never be able to pay back their tabs."
An employee at Sleeper's and an UMPI student, Moriah Connolly of Caribou speaks about some of the older customers she's seen.  They have familiar faces, wrinkling by the year.  "I've had multiple customers tell me how they've shopped here since they were little boys and girls.  They always talk about how the store has stayed the same.  They keep coming back because they are treated like friends here, not customers," Moriah says.
A backbone to the community for over a hundred years, Sleeper's store has lasted as few businesses could.  The bond with its community members, service that surpasses expectation and a trustworthy reputation have allowed the store to last.  But it's the people practicing the original values that makes Sleeper's so special, and it must be working.  People just keep coming back.