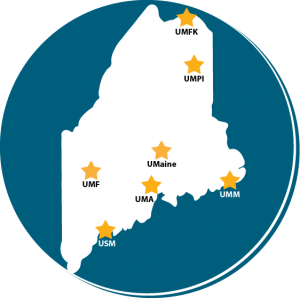 A few weeks ago the University of Maine System Board of Trustees passed a declaration document whose purpose is to address the future strategic priorities that the UMS will have to follow in order to address some specific, critical state needs. But what does that mean?
In a shorter explanation, this will mean that this declaration will work toward sustaining and expanding the One University reform effort that Chancellor Page initiated a few years back.  It will guide a search for a new leader after Page's retirement this upcoming May.  And it will provide directives for university leaders over the next three to five years.
This is a great way that the board is trying to establish a set goal for the system and ensure in that way the growing success that it had over the last years when Page was leading the university.
Some of the primary outcomes stated in the declaration include increase enrollment, improve student success and completion, enhance UMS fiscal positioning and support Maine through research and economic development. The State of Maine is facing many challenges during the last few decades that have carried all the way to today. Maine is the nation's oldest state with a rapidly aging population. Because of that, there are many new demands and new services that challenge the state's workforce. The decline of education attainment, the low birth rate and the emigrating Maine youth are causing the working population of the state to shrink rapidly. The document goes on to state some other difficulties, but the major ones were as described: the population and low educational attainment.
When it comes to the proposed board solution, the first line of the paragraph is that the higher education institutions must work together with the state and local businesses to advance the Maine economy and its workforce development. This will require for UMS to adapt its curriculum, programs and its priorities.  The primary goal that the board is trying to achieve is to maximize and advance the educational attainment in the state by providing high quality, affordable and accessible programs.
The strategic goals and actions listed in the declaration in great detail are the following: Advancing Workforce Readiness and Economic Development, Increasing Maine Educational Attainment, Aligning Academic Programs and Innovation to Drive Student Success and Employer Responsiveness and last to Maintain Competitiveness and Sustainability to Meet Critical State Needs.
UMPI President Rice, when it comes to this new policy, said, "I think it's an important declaration for a number of reasons.  First and foremost, it clearly articulates the challenge the State of Maine is facing in regards to workforce development and the role– and responsibility–the University of Maine System and all of its campuses play in helping us address that challenge.  And that, of course, includes ensuring that we're not only preparing traditional college-age students for careers and professions, but also ensuring that "working learners" (as I like to call them) of any age have the opportunity to complete degrees.  Second, it's crucial that we work closely with employers to ensure that we're preparing our students so they can be successful within those professions, so partnerships with the private sector and government (federal, state and local) are of tremendous importance.  In addition, we need to be certain that we're offering programs in the formats that all of our learners need– whether they be more traditional first-time students right out of high school or working parents who are looking to further their careers and need to do so in a manner that works around their jobs and responsibilities.  Finally, I think the declaration is important because it articulates these concerns in a way that future leadership of the System can identify and engage.  For we need individuals who will continue to do the important work that Chancellor Page– and presidents and faculty and staff and students– have undertaken, to ensure that One University principles and developments continue to expand and advance."
This is a very important step for the institution and one that will prove to be a great resource for the state's future. When it comes to our campus, UMPI is in good shape to address these priorities. From the recent new major additions such as Agricultural Science and Cybersecurity, to the revival of some of the older ones such as Accounting and to the internship and research opportunities for all students, UMPI has been a great leader in supporting competency-based programs to working learners everywhere.  That is the number one reason that places our campus in the forefront of such initiatives.
There is a lot of work to be done for sure.  But the path that is carved right now is one of the most important steps that will prove to be a crucial initiative for progress and development.