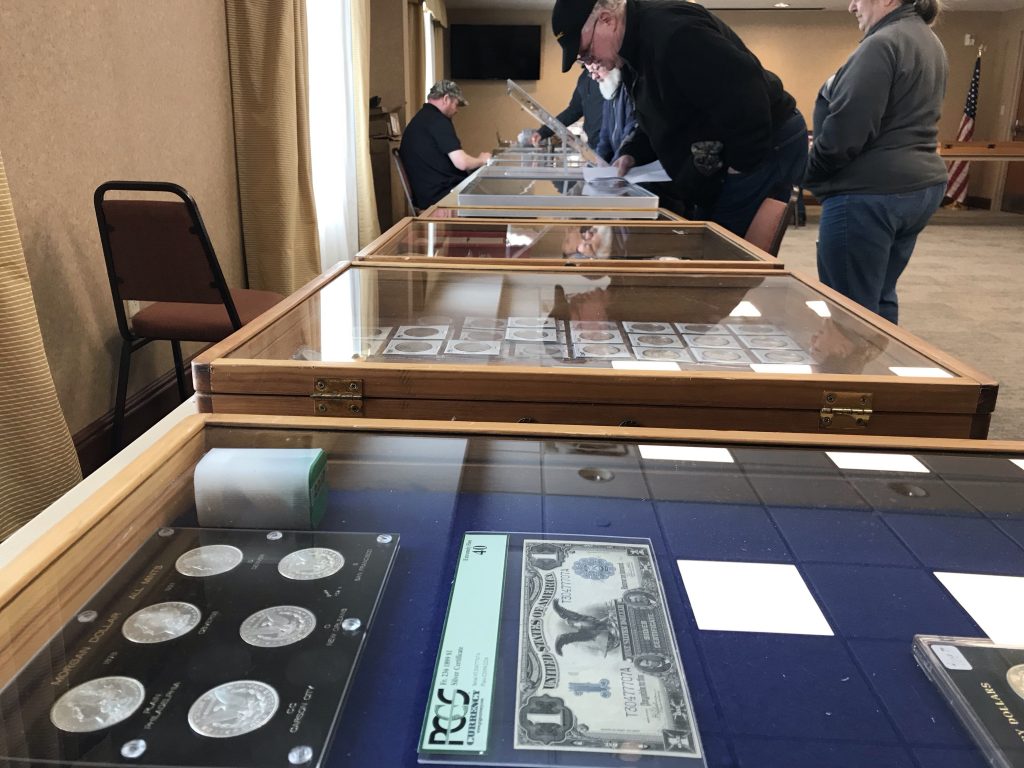 Icy winds on an early February Sunday could not stop collectors as they met for the monthly Coin and Card Show.  James Scherer hosts the event at the Hampton Inn.  It takes 10 large display cases to show off his collection, ranging from sports cards to silver bars.  And it wouild likely take libraries to contain his knowledge of collectibles.  Scherer's amassed his knowledge during a lifetime of trading of cards and collectibles.  He's done this as a hobby.  He's also done it for a living.  You may have seen him at the Aroostook Centre Mall.
Browsing his collections, he discussed the history of the pieces.  He pointed out two silver nickels, one minted in Philadelphia more valuable that its twin made in San Francisco.
Later he moved to his own past.  First there was a collection that now numbers hundreds of Whitman books.  These books triggered Scherer's love for collecting at age 11.  Then there are silver bars, stamped with the year they were produced, that he received as Christmas gifts from family members.
Another case shows rookie cards featuring Tom Brady.  "I figured they'd be popular around Super Bowl time."
There is an appraised series of baseball cards with a couple of Beantown favorites, Yastrzemski and Evans.  To the eye they appear brand new, but are ranked respectively at a three and a five on a scale to 10, 10 being highest.  This is known as the PSA ranking.  PSA stands for Professional Sports Authenticator.  It is a third-party organization that created a standard for ranking quality of sports memorabilia.
The Hampton Inn houses events monthly, but it is Scherer who arranges the events.  You're more than welcome to browse and even learn from these local collectors.
"Aroostook County is unlike anywhere else I've lived," Scherer said.  "And I've moved 19 times.  Collections stay together here.  People value what they have and they keep it.  In most urbanized cities, items are sold and collections are split up to sell at antique dealers.  But not here."
You can be sure to find Scherer and his collection at the Coin and Card Show.  He's an interesting storyteller and a fantastic resource for amateur collectors.  There is no cover charge to attend, no dress code, but there is plenty to see–and to learn.