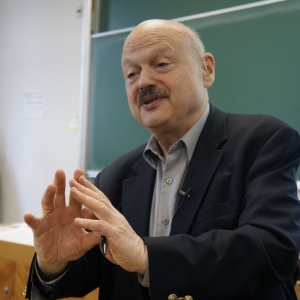 The University Distinguished Lecturer Series brought Dr. Michael Herzfeld to campus, Sept. 26-28. His lecture "Overcoming Cultural Difference: Living the Lives of Strangers," talked about how anthropologists do this and how it can lead to intercultural understanding.
Before teaching at Harvard University, Herzfeld taught at Vassar College and Indiana University. He also has taught as a visiting professor at various universities around the world, such as the University of Melbourne, University of Sydney, University of Adelaide, and at the University de Paris-X (Nanterre). In addition to his teaching duties at Harvard, Herzfeld serves as the director of the Thai Studies Progris.
Herzfeld is now editor-at-large with specific responsibility for the feature "Polyglot Perspectives" in "Anthropological Quarterly." He serves on many other editorial boards and is currently co-editor of "New Anthropologies of Europe (Indiana University Press) Asia Center."
Herzfeld is the Ernest E. Monrad Professor of the Social Sciences in Harvard University's Department of Anthropology. He is the author of numerous books such as "Ours Once More: Folklore, Ideology, and the Making of Modern Greece" (1982), "The Body Impolitic: Artisans and Artifice in the Global Hierarchy of Value" (2004) and "Evicted from Eternity: The Restructuring of Modern Rome" (2009).
In his talk, Herzfeld talked about his experiences in other countries and how he interacted with other cultures. He explained how it is OK to learn about other cultures and that there is no reason to be in an invisible bubble where people do not know about other cultures.
Dr. Jacqui Lowman, a good friend of Herzfeld's, said, "I was delighted with Michael Herzfeld's lecture on all levels.  The turnout was amazing.  And the talk was certainly worth people's time.  Michael took us on a tour around the world and helped us live the lives of others–through food, architecture, religion, celebrations–and best of all, people.  He inspired so many of us to be curious, humble and adventurous.  It affirmed and renewed my desire to learn all that I can about every person and place that I encounter."