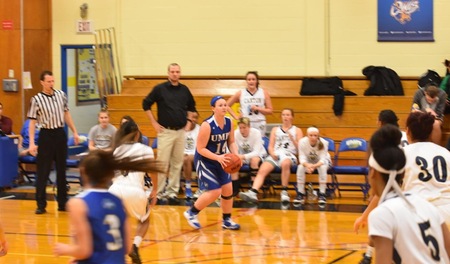 Time is winding down on the mechanical scoreboard as number 14 dribbles across half court.  She fakes right, goes left and puts up a shot.  It touches only the net as it slides through the rim.  Count it.
A freshman in the exercise science program, Hunter Mercier has become a key producer for the UMPI women's basketball team.  An avid hiker and swimmer from Fairfield, Maine, Hunter is in the thick of her first season as an UMPI Owl.
Averaging over 30 minutes of playing time per game, Hunter plays until the final whistle.  She is top four in points scored per game, 10.8; rebounds collected per game, 3.6; while impressively making her shots 35.2 percent of the time.
Hunter also is leading the Owl women in 3-point percentage shooting, an impressive 38.1 percent.  When asked about her success from beyond the arc, Hunter answers humbly.
"I give credit to my teammates for finding me when I am open for three, and us working as hard as we can to get more open looks."
Mercier is no stranger to basketball, playing through multiple knee surgeries in high school.  Two new ACLs later she wasn't ready to give up the hardwood yet.  She remains a competitor on and off the court.
"The biggest adjustment from high school to college sports is the skill of the opponents.  The college athletes are bigger than high school players, they're faster and they're stronger, so I've had to work that much harder to keep a competitive edge."
The added difficulty of Hunter's rehab to maintaining her skill level is an example of the passion she has for the game.
Hunter said transitioning to a full-time student athlete from high school is difficult.  "There have been more than a few late nights spent studying."  She stays focused to maintain her marks.  Academic quality takes priority over athletics here at UMPI.  She spoke about the eligibility rules for student athletes being helpful reminders for keeping up with the school work.
"If your grades stink, you can't play.  And we all want to play."  She plans to continue playing basketball for the University of Maine Presque Isle as she progresses toward her bachelor's degree.
When Hunter's coach, Gavin Kane was asked about her as a student he replied, "Hunter has really adapted quickly to life as a college student-athlete.  She has done a very good job in the classroom and understands the importance of getting a great education."
The conversation rolls to Mercier's successes as a member of the basketball team.
"Hunter has had an excellent freshman season on the basketball court.  The grind in college sports is pretty significant both physically as well as mentally.  I feel that (Hunter) has handled both aspects very well."
Right now, Hunter is pretty busy with basketball she says.  But when she does find some free time, she enjoys exploring Presque Isle, as well as socializing in the dorms or Gentile Hall.